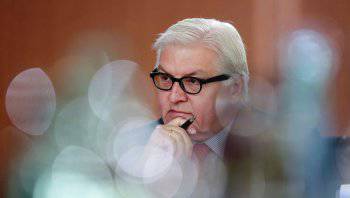 According to RIA
"News"
, with a link to
The Local
, 19 in May, German Foreign Minister Frank-Walter Steinmeier spoke at a Social Democratic rally in Berlin, displaying unprecedented emotions for a German official. The video with his participation scored 740 000 thousands of views in just one day.
Several hundred people gathered at Alexanderplatz, which sharply criticized Steinmeier's position on Ukraine. People had posters with the words "Stop the Nazis in Ukraine." In addition, those present shouted accusations against the head of the Foreign Ministry, calling him "the instigator of war."
Obviously angry, Steinmeier said that people "carry nonsense." "If we listened to such people, then Europe would be destroyed," he said irritably. According to the Foreign Minister, people need to think about who provokes the war. "Those who call other societies" rubbish "are those who incite wars," he said.
Steiner continued his speech by saying that the world cannot be divided into pacifists and villains, thanking God that there are still people who understand this.