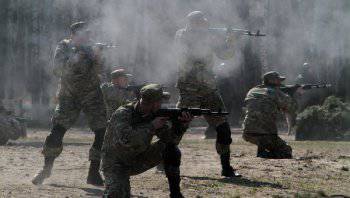 According to RIA
"News"
referring to the portal
mixnews.lv
, the Latvian government is considering the issue of the participation of its troops in the "Rapid Trident 2014" exercises, which will be held in Ukraine from 14 to 25 in July.
It is planned that units of the ground and air forces of the armies of Bulgaria, Denmark, Canada, Germany, Czech Republic, Latvia, Great Britain, Poland, Spain, Romania, Greece, USA, Armenia, Turkey, Azerbaijan will take part in the united maneuvers organized by the US Army in Europe. , Moldova, Georgia and Ukraine. A total of about 100 foreign military will take part in them.
According to the portal, the main goal of the exercise is to increase regional security and stability, strengthen partnership opportunities, and improve interaction between the armies of Ukraine, the United States and partner countries.
In accordance with the legislation, the decision on the participation of the Latvian National Armed Forces in maneuvers in the territory of non-NATO countries is taken by the government.