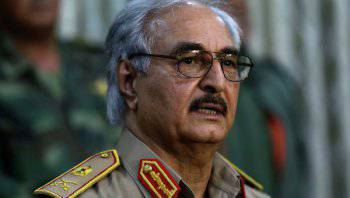 According to RIA
"News"
With reference to the Reuters agency, the rebel General Khalifa Haftar stated the need to form a crisis government that will take over the leadership of the country and the holding of elections scheduled for June 25.
"I urge the Supreme Judicial Council to form a crisis government to control the upcoming elections," Haftar said, noting that the current parliament and government have lost their legitimacy due to their inability to resist extremists.
In support of Haftar, the Libyan Minister of Culture spoke, who said that he "did not recognize the country's general national congress" and went over to the side of the general.
Earlier, the action "Libya's Honor against Terrorism", which began last week, Khalifa Haftar, first in Benghazi and then in Tripoli, was joined by the Libyan Interior Ministry. Representatives of the ministry called on all employees to "join the general action, to protect public institutions and citizens."
The escalation of the situation in Libya began after the attacks of the Islamist positions in Benghazi, launched by the forces of the rebellious general last week without notifying the current authorities. On Sunday
armed clashes
started in Tripoli. In recent days, on the side of Haftar
moved a number of units
army and police, as well as moderate Libyan groups.