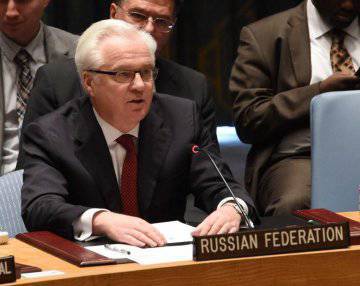 According to the
"RT in Russian"
, 21 May in the UN Security Council held closed consultations on the situation in Ukraine, during which Assistant Secretary-General for Human Rights Ivan Shimonovich spoke, who coordinates the work of international observers in the country. After the meeting, the Russian permanent representative, Vitaly Churkin, criticized the UN position, noting that the Security Council did not support Russia's initiative to conduct an independent investigation of the events in Odessa.
"Unfortunately, the members of the Security Council were not able to support our call to appeal to the Secretary General to prepare an impartial investigation," the Russian representative to the UN said.
In addition, Churkin did not voice the position of the Russian Federation regarding the presidential elections in Ukraine, noting that Russia will see what happens on May 25. "We are open, President Putin said that this is a step in the right direction, but, of course, it must be proper elections. I personally do not see how some may say that these are proper elections when the military operation in eastern Ukraine continues, "he added.
To the journalist's question about whether the world is returning to the era of the Cold War, Vitaly Churkin answered negatively.
In addition, he said that in a closed meeting, the Russian delegation raised the issue of the detention of journalists Life News and RT. "We talked about journalists, drew attention to the ugly fact of arrest and English subject cooperating with RT. Again, our Western colleagues were silent. Even the Englishman, despite my question about what he thinks about the arrest of an English citizen, said nothing, "said Churkin.
Also, the Permanent Representative commented on the role of the educational system of Ukraine in shaping the views of young people. "Today this question has not been raised, but we are concerned that young people in Ukraine wear portraits of Nazi accomplices. It took years of psychological treatment of young people in this country to convince them to support those who acted on Hitler's side. I do not think that in this way they will be able to benefit their country. The Nazis killed millions of Ukrainians, we believe that this situation was used to incite hostility towards Russia in Ukraine, "he said.