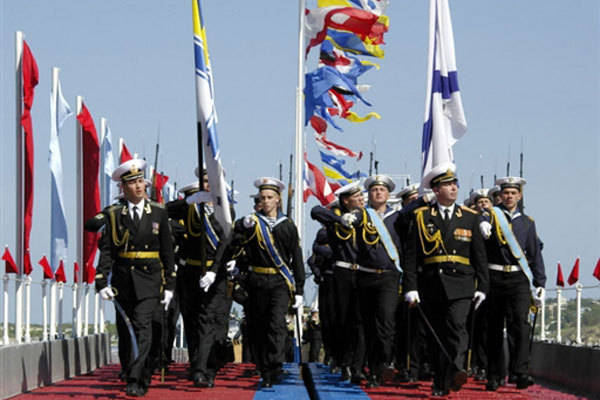 On Monday, the opening ceremony of the Ukrainian-Russian naval exercises "Fairway of the World-2011" takes place in Sevastopol. For the first time in the last 10 years, they are again carried out not on computers at headquarters, but at sea and on landfills with the involvement of significant sea and land forces.
This time, according to the press center of the Ukrainian Navy command, about 2011 warships, auxiliary vessels and boats, over 20 marines, about 300 armored vehicles, 50 helicopters and 3 naval aircraft take part in the joint exercises "Peace Fair 6". Ukraine and the Black Sea
fleet
Russian Federation, 2 aircraft of the Sevastopol tactical brigade
aviation
Ukrainian Air Force, medical units of the Military Medical Clinical Center of the Crimean region of the Ukrainian defense department.
The "Fairway of the World" was held several times during Leonid Kuchma's presidency, but in 2005, the Russian side refused to participate in these exercises without explanation. Last year, after the change of power in Ukraine, they were restored, but the exercises were held as command and staff - only on computers.
Now the scenario of the Ukrainian-Russian maneuvers almost completely repeats the scenarios of last year's Ukrainian-American exercises "Sea Breeze". The head of the press center of the command of the Ukrainian Navy, Oleg Chubuk, says: "The learning legend provides for working out training questions in the conditions of occurrence in a conditional coastal state, the name of which is" Central Country ", of a crisis situation caused by aggravation of religious and interethnic contradictions and a natural emergency situation - strong earthquake that occurred in the coastal region of the Central country ".
"Window dressing" for journalists?
However, this is the only similarity with "Sea Breeze", notes Dmitry Timchyuk, the chief editor of the Internet project "Fleet-2017". According to him, these common with the Russian teachings are paid by the Ukrainian taxpayer, while the Ukrainian-American ones are paid by the United States government.
In addition, the expert believes that from the "Fairway of the World", besides the political effect of demonstrating the friendship of Ukraine and Russia, "there is no practical use". After all, Russian sailors, like Ukrainian, unlike American, "have enough combat experience, they simply have nothing to exchange, it would be easier for each of the parties to independently conduct one-sided exercises - the effect would be the same," Dmitry Timchyk believes.
The commander of the Black Sea Fleet of the Russian Federation, Vice Admiral Vladimir Korolev, will lead the exercises, and his deputy from the Ukrainian side will be First Deputy Commander of the Ukrainian Navy, Vice Admiral Sergei Eliseev.
As local observers note, in fact, the teachings themselves have already taken place - at the end of the week, the Fairway of the World was held in Sevastopol Cossack Bay. As one of the officers of the Ukrainian Navy headquarters said, now Ukrainian and Russian sailors will "work for television cameras."