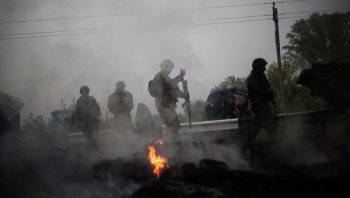 According to RIA
"News"
, in the city of Izyum, a press conference was held with the participation of the speaker of the Ukrainian parliament, Oleksandr Turchynov, who said that the Ukrainian security forces were ready to begin the final stage of the antiterrorist operation in the east of the country.
"A meeting has just been held with the security forces, we are ready for the final stage of the ATO and we are ready to clean the Donetsk and Lugansk regions from terrorists for the next hour," he said.
"We do not use such terms and all our actions are aimed at the safety of civilians," Turchinov replied to the journalists 'question about whether storming or cleansing of Slavyansk and Kramatorsk would be launched.
Meanwhile, according to the agency, the Ukrainian military began shelling the center of Slavyansk. Earlier, the leader of the national militia, Igor Strelkov, said that the security forces were kicking up artillery to Karachun Mountain, and in the near future a massive shelling of the city center controlled by supporters of federalization could begin.
According to Strelkov, on Tuesday night, "shooting the center of the city with blank blanks" was launched, three of which fell near the city executive committee, and one was stuck in the balcony of a residential building. In addition, several buildings were damaged as a result of shelling.
As noted by the news agency
"Vesti"
, also representatives of the national militia reported shooting in the area of ​​the checkpoint of the Ukrainian army near the village of Krasny Liman.