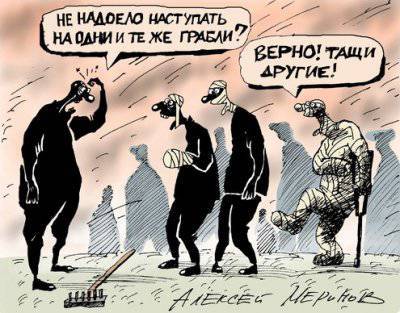 The mighty anti-Russian wave from Ukraine made our political strategists itch: oh, we failed all the work there to create a bright image of Russia! But I would scratch them even more: what is going on in Russia itself, as if by some pike, is the maranje of its historical face?
Ukrainians have been told that Russia is the country of slaves, donkeys, persecution of the best that helped the West to pinch our neighbor on us. Why is the same thing instilled in us and in order of internal use, so to speak? To emit from the internal wave as well?
Here is one kind of insignificant example, but reflecting, as in a drop, this initiative to make the USSR, whose heir we are, is such a prison, the escape from which is supreme valor. We have the classical music radio "Orpheus", where, unfortunately, less and less music itself, more and more talk about it, those who parasite prancing on its wave. They travel around the world at such a cost and tell how their vocals sounded at La Scala or the orchestra at the Metropolitan Opera - such nonsense how to feed people with stories about the dishes of an expensive tavern!
And on this channel, which I am switching on for the sake of Beethoven and Bach, and not DJs who have stuck to them, the program is broadcast on the great Soviet conductor Kondrashin. In general, it is interesting to hear about a great artist; in the USSR there was such an enlightener Irakli Andronikov, whose matchless stories about art and its creators collected millions of viewers. But here - the so-called "standard" named after Shvydkov, tracing from the still pre-Soviet "Voice of America".
The USSR People's Artist Kondrashin, a winner of heaps of awards, including two Stalin's, left his homeland at the end of the 70s as a sign of the struggle against his parocrats. Well, maybe they stuck him, giving him all our best concert venues - but no more than the others from his orchestra, which he, therefore, with a light heart threw at this jam! He did this for the highest motives, to serve art — as his piercing letters to his relatives say, for some reason they didn't cite ... But even if they wrote something like that, who among those who flee abroad will write that He was offered an extra slice of bacon there, so he ran away!
Well, say: in the West, where the conversion of success into hard currency was then higher at times, the artist was given more, plus the aura of the fighter, a surge of new sensations - so he ran away. Everyday business, known from centuries around the world: the fish is looking for where it is deeper, and the artist is where it is better. This is no feat and, all the more, it does not reproach the government that raised talents that had global demand - and everything that is forgiven for talent is weak. But only in our country, which does not put an end to anything, as with youthful masturbation, with its samoyedst, the escape of talented rats from a ship is issued for a feat that humiliates us!
Here's another story about our other nugget - Tupolev, already on the most patriotic TV channel "Star". And again with some kind of indispensable spitting today in our past, it is said about his landing. What an ungrateful, vicious country they say: took such a genius and planted!
But in the 1937 year, Tupolev sat down deservedly - for spending money on a trip to the USA, from where he was supposed to bring the blueprints of the American plane sold to us for currency. But he brought them in inches, which, by virtue of technology, did not translate into our centimeters. Even under the guise of an employee, he took his wife there, who brought a bunch of rags home and the first home refrigerator in the USSR. Yes, he may have done all this for a reason - wanting to build not other models, but only him. But after himself he admitted that without mastering the advanced technologies of others, we would never have been able to build the same TU-95 rocket carrier of this genius, which have been flying with us to this day for almost 60 years!
And not a flaw, but the strength of the Stalinist system is shown by this repression, which has made of a wayward embezzler a great designer, then received general shoulder straps and every conceivable prize. And one can generally say that that system was healthy from brisk weeds to make useful grass — unlike ours, which does the opposite.
But now it is necessary this way or the other, even between the lines, to nakakat the Soviet past - and even the most patriotic media rolls up into a pipe before this "must". It is clear why: by means of a pasture of the past power to raise the current one. But the sins of others will not be holy! On the contrary, he scamming in vain for nothing that his fathers and grandfathers in vain inspire one contempt in themselves - which is reflected in the mirror of the current Ukraine. And as her zapadentsev curse, they just used our Samoyed card. We spent our years past 25 for years at a time — and they just added a little to the same closest conjuncture. Namely: all the leaders of present-day Russia are flesh and blood of the Soviet ghouls, they themselves damned, and with such a rotten heredity one cannot stand next to them at all!
Yes, in the short term, watering the fathers' shit may serve to help stupid children: they say our dads are so crappy that against them we, even thrice swindlers and scoundrels, are still oh-eh! But then it will inevitably bring world pitchforks against us: since our roots are all in shit, one shit can grow out of them! And as opposed to such a thought, which we are driving into our base, the adversaries seduce them with unshakable, from Shakespeare to Obama, with Western values: this is where everything is about th! And the people, in any war fighting only from the heart, already in some kind, God forbid, an accident with such a manner taken out by the middle one will not be either a warrior or a protector of himself!
Therefore, there is nothing to repay your past! What was worthless in him must be taken as a precious experience, from which it is useful to withdraw something with great gratitude for his science, and not with treacherous hatred! Instead of justifying one's sins with grandfathers sins, go up to the heights marked by the same Kondrashins, Tupolevs, Korolevs, who still illuminate our now miserable sky!