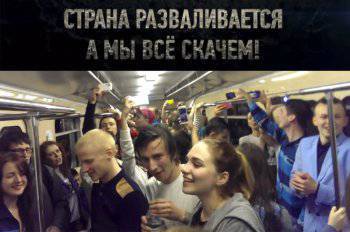 A video with a favorite flash mob of Ukrainian nationalists "Hto ne jumping, that moskal!" Appeared on YouTube, which scored more than 150 thousand views in a few days.
Meanwhile, comments from users were not always approving. "Young morons jumped in the subway car, shouting" They are not jumping, that moskal! "And" Well, we, like, gathered to join the EU, "said one of them, adding that the participants of the" action "shouted insults to the Russian leadership .
And the very next day, a kind of response appeared on the Web to this "flash mob" under the heading "Maydanutye doped".
In the video you can see all the same jumping young people shouting the popular "slogan". But suddenly they are interrupted by a driver, who announces on the speakerphone: "I am Moskal", and then the train is sharply slowed down.
Toward the close the phrase appears: "The country is falling apart. And we are all jumping. "