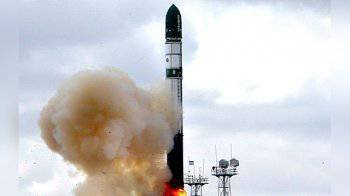 According to the
"RT in Russian"
With reference to The Daily Beast, one of the American congressmen proposed a symmetrical response to Russia's statement about stopping the supply of rocket engines to the United States. In his opinion, it is necessary to begin negotiations with the Ukrainian authorities on blocking cooperation with the Ukrainian design bureau Yuzhnoye, which helps in serving the Russian intercontinental ballistic missiles RS-20 Satan.
Republican Mike Rogers, who heads the subcommittee of the armed forces in the US House of Representatives, is going to make appropriate amendments to the annual draft budget of the Pentagon.
According to Ukrainian analysts, only 40 missiles from 600, which are in service with the Strategic Missile Forces of the Russian Federation, are produced in Russia.
"This is a solid benefit for the Ukrainian enterprise, and it basically exists on the money that Russia pays for providing warranty supervision of the Voyevoda missile system. Economic ties are valuable, whoever comes to power in Ukraine. And I do not foresee that this intergovernmental agreement will be denounced, "said Victor Yesin, the former chief of the General Staff of the Strategic Missile Forces in February.
However, as Rogers notes, it is necessary to begin negotiations on ending the activities of the Yuzhnoye design office and any other Ukrainian organizations that support the military or military-industrial base of the Russian Federation, while Russia violates its obligations under the Budapest Memorandum by illegally occupying Ukrainian territory and supporting groups that incite violence and incite movement for secession from Ukraine. "
According to Esin, if cooperation between Russia and Ukraine is discontinued, the operation of the RS-20 missiles will "cause difficulties", since the technical specifications and detailed plans are in the Ukrainian design bureau.
If the Rogers amendments are approved, then Secretary of Defense Chuck Hagel will be given 30 days to report to Congress on "US plans to end Ukrainian cooperation with Russia on intercontinental ballistic missiles", as well as "recommendations on how the United States and its allies can benefit from the capabilities of the design bureau Yuzhnoye, notes The Daily Beast.