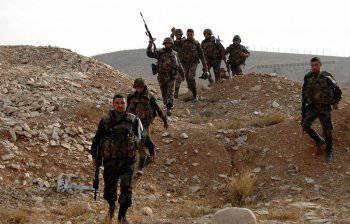 According to the
ITAR-TASS
, with a link to
news
Al-Watan service, a Syrian military entered the city of Nava, located southeast of Damascus, and began clearing neighborhoods. It is noted that a lightning operation with massive artillery strikes and
aviation
"Completely demoralized the enemy." Opposition commanders turned to rebels from other provinces for help.
The troops managed to block the attempts of the Islamic Front's Mujahideen to get to Nava from the city of Deraa, located 110 kilometers from Damascus on the border with Jordan. As a result of the clash, the militants "suffered heavy losses in manpower and equipment."
The Syrian military offensive began on May 17. At the moment, there are fights over the heights of El Jumua in the hilly region on the border of the provinces of Quneitra and Dera'a.
Artillery shelling of the positions of the rebels in the west of Damascus on the outskirts of Daray continues. In addition, an operation is being conducted against the Islamists in Mlikh and Jubar. Here the Syrian military liberated several buildings. Aviation attacks involving Jisrin and Ain-Terma. The military managed to detect and destroy the underground tunnel that connected Ain-Terma and the surrounded militant base in Jubara.
According to Governor Homs Talal al-Barrazi, negotiations are currently underway with militants who sat down in the suburb of Vahar and settlements of Rastan, Talbis and Dar-el-Kabir, where they are discussing the complete surrender of armed formations in the territory of this central province.
Negotiations are held with the participation of spiritual leaders and elders. An agreement has already been reached on disarming over the 400 rebels in the Teir Maale area.