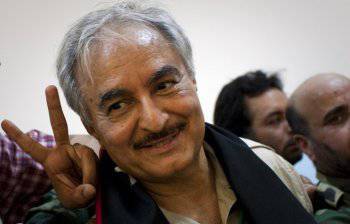 According to the
ITAR-TASS
, with reference to the TV channel Al-Arabia, the leadership of Tripoli's national security administration supported the rebellious General Khalif Haftar, who began a large-scale operation against groups of radical Libyan Islamists.
Last Friday, the Libyan National Army, headed by Haftar, attacked the radical Islamists in Benghazi. During the clashes killed a few dozen people. These actions were condemned by the leaders of the interim parliament of Libya - the General National Congress (WPC), including the commander in chief of the Libyan armed forces, Nuri Abu Sakhmain, who is actively supported by the Islamists. He called the incident "coup attempt", promising to begin the prosecution of all participants.
Meanwhile, the initiative of the rebellious military leader was supported by many regular army and security forces, as well as semi-official detachments of former revolutionaries.
On the side of Haftar crossed
Zawan brigades of Sawaiq and Al-Kaak, detachments of eastern militias of the Cyrenaica region, an air base in Tobruk, as well as army special forces Al-Sahik from Benghazi, which is considered one of the most combat-ready units of the Libyan army.
Previously, supporters of Haftar declared the suspension of the work of the OWC, transferring "limited" powers to the 60 Council (the Constitutional Assembly ", which will create the new legislation of the country and prepare parliamentary and presidential elections. However, the congress, which has strong positions of the Muslim Brotherhood, refused to comply with this decision by convening a regular session.
The Provisional Parliament is supported by the pro-Islamist Operational Headquarters of the Libyan Revolutionaries, the 17 Brigade, Ansar Al-Shariya and several smaller formations that have already made it clear that they are not going to surrender without a fight.