According to the information agency
"Vesti"
, on the outskirts of Mariupol, National Guard soldiers detained British journalist Graham Phillips, working with Russia Today. Phillips has been in Ukraine for several months. In early May, activists of the Right Sector threatened him with physical violence, and later announced a reward of 10 thousand dollars for his head.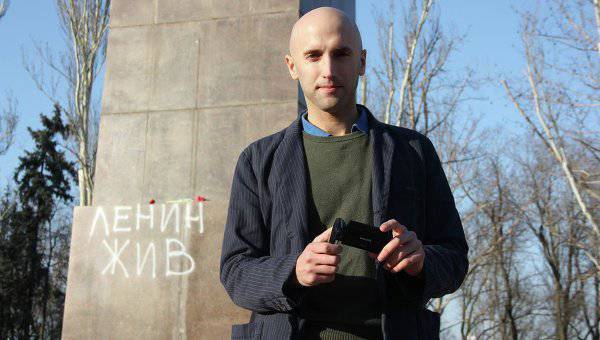 On Tuesday night, a message appeared on the journalist's Facebook page that the number of threats against him continued to increase, and in the morning he was detained away from Mariupol.
Shortly before his arrest, the journalist gave an interview to the Russia 24 channel, in which he called the information spread by the Ukrainian media "just propaganda." "I myself am from England. I am impartial, objective. I am not for Russia, not for Europe, not for the USA - I am objective, "he added
RIA
"News"
notes that the security forces, who detained the reporter, were ready to release him if he surrendered his helmet and body armor, and also removed all the photo and video materials taken near the roadblock, but were refused. After that, the soldiers of the National Guard called representatives of the SBU, who confiscated the shooting equipment of the British, and decided to send him to Kiev.
According to the leadership of the TV channel Russia Today, they have already asked for help in the British Foreign Office, as well as the British consulates in Ukraine and Russia.
"The situation is beginning to resemble a dangerous absurdity. Our correspondent was charged with being suspected of espionage. The McCarthyism that we see in the situation with Ukraine is absolutely unpromising. These are stupid and completely vain attempts to shut up honest journalism, "said Alexey Kuznetsov, deputy head of the English editorial staff of the Russia Today TV channel.
It is worth noting that this is not the first time that journalists fall into the hands of Ukrainian security officials. 18 May near Kramatorsk
staff of LifeNews channel were detained
Oleg Sidyakin and Marat Saychenko, who were accused of promoting terrorism. According to LifeNews chief editor Anatoly Suleimanov, the reporters were taken to the Kiev office of the SBU.
"In fact, the Kiev authorities are continuing the campaign to clean up the information field, trying to crack down on objectionable journalists, despite the demands of Russia and other members of the international community, despite the relevant appeals from the OSCE. It can be stated that the Ukrainian authorities continue their destructive policy of violating the norms of international law, primarily in terms of ensuring freedom of speech, "said Konstantin Dolgov, the Russian Foreign Ministry's ombudsman for human rights, democracy and the rule of law.