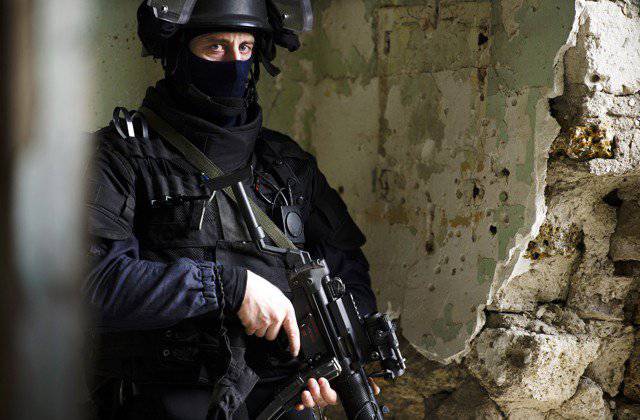 Its military industrial complex almost completely provides the armed forces of the country with weapons and equipment. Nevertheless, the geopolitical ambitions of Paris significantly exceed its military capabilities.
Having suffered a heavy defeat from Germany at the beginning of World War II, France, following the results of this war, was artificially returned to the number of not only winners, but great powers. For seven decades, Paris is trying in every way to maintain this status, demonstrating the huge ambitions that are generally characteristic of this country. France is one of the founders of NATO, while from 1966 to 2009, it was not part of the military structure of the alliance, demonstrating increased independence in military and international affairs. France is a nuclear power, ranks fourth or fifth in the world in terms of charges (after the United States, Russia, China and, possibly, Israel).
Geographically, France is a continental country, but militarily behaves more like an ocean power, actively developing
Aviation
and the fleet. Like almost all NATO countries, after the end of the Cold War, it switched from conscription to the hired principle of manning and significantly reduced its armed forces (armed forces), remaining, however, one of the strongest in the alliance and generally in Europe.
France has a powerful military-industrial complex, which almost completely provides the Armed Forces of the country with weapons and equipment. The exceptions are the American MLRS multi-launch rocket system (MLRS), the Javelin anti-tank missile system (ATGM), the E-3 and E-2 early warning radar aircraft (ARLO), some C-130 transport aircraft and some aircraft armaments. France develops and manufactures part of aviation equipment together with other European countries, primarily with Great Britain, Germany and Italy.
The ground forces have the headquarters of the rapid reaction forces and two divisions, but in peacetime the combat forces do not obey these headquarters. The ground forces are formed by 13 brigades: 1-I, 3-I mechanized, 2-I, 7-I armored, 6-I light armored, 9-I light armored "marin" (marines, which in France is organizationally part of ground forces, not naval forces), 11-I parachute, 27-I mining, reconnaissance, communications, transport, French-German, special forces. There is also the 3 Army Aviation Regiment, the 6 MTO Regiment, the 3 Marine Regiment in the overseas territories and abroad (Djibouti, Guiana, Reunion).
The composition of the land forces also includes the famous Foreign Legion, which is staffed mainly from citizens of other countries. The Legion includes the 1 Regiment, the 2 Infantry Regiment, the 3 Infantry Regiment (in Guiana), the 4 Regiment, the 1 Cavalry Regiment, the 1 and 2 th Regiment of Engineers, the 2 Parachute Regiment (13) in Corsica), XNUMX-I brigade group (in the UAE).
The gendarmerie can act together with the ground forces, although in peacetime it usually performs police functions.
In service is 254 modern
tank
Leclerc (considered the most expensive tank in the world, worth up to 10 million euros). In storage is another 152 Leclerc, as well as 177 obsolete AMX-30V2 tanks.
The tank fleet is complemented by a significant number of wheeled vehicles with heavy weapons - 256 AMX-10RC with a 105-mm gun (still 81 in storage), 160 ERC-90F4 and 28 VBC-90 with a 90-mm gun (VBC-90-1610-11 with 500-mm gun (VBC-10-VN-158 with 450-mm gun (VBC-5-VN-3,5 with 27-mm gun (VBC-206-VN-10 with 1133-mm gun (VBC-153-VN-170 with XNUMX-mm cannon (VBC-XNUMX-VN-XNUMX with XNUMX-mm cannon) . In addition, there are XNUMX VBL M-XNUMX armored vehicles. In service is more than XNUMX newest BMP VBCI (their production continues), they replace the old BMX AMX-XNUMXP / PC, which XNUMX remains in service (even before XNUMX is in storage). There are almost XNUMX thousands of armored personnel carriers and armored vehicles - up to XNUMX thousands of VAB, at least XNUMX Swedish Bv-XNUMXS and BvS-XNUMX, XNUMX PVP, XNUMX VBRG-XNUMX (in the gendarmerie).
37 self-propelled artillery mounts (SAU) AU-F-1 (still 216 in storage), 77 newest wheeled SAU "Caesar", 43 towed guns TR-F-1 (still 62 in storage) are in service. They all have a caliber 155 mm. There are X-NUMX mortar RT-F192 (1 mm), as well as 120 mortar caliber 157 mm and 60 mm in gendarmerie. The most powerful artillery system of the French army are 81 US MLRS (55 mm).
In service are more than 1 thousands of ATGM - 660 "Milan" (including 110 self-propelled BTR VAB), 492 "Eriks" (including 185 on VAB), 76 "Javelin".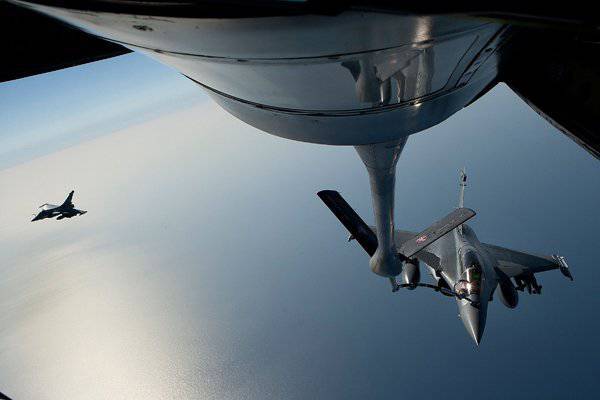 Refueling the Rafale fighter in the air. Photo: Patrick Aventurier / Getty Images
Troop defense consists of 882 MANPADS "Mistral" and a certain number of anti-aircraft guns.
As part of the Army Aviation has 8 light transport aircraft TBM-700, 5 Swiss PC-6 training aircraft until 300 combat helicopters (40 latest ES665 "Tiger" (will 80) 168 SA342M to 74 SA341F «Gazelle"), more than 150 multi-purpose and transport helicopters (18 AS555, 7 EC725AP, 22 AS532UL, 93 SA330, 11 NH90). Army aviation complement gendarmerie helicopters - 20 EC135, 15 EC145.
Air Force organizationally divided into 7 commands. The strategic command is designed to deliver nuclear strikes, there are about 20 of the Rafale aircraft, all of the Mirage-2000N and all the C-135 tankers on its armament. On arms of the Joint Command are all other combat aircraft, as well as reconnaissance and electronic warfare aircraft. The command of air defense and air operations has DRLO airplanes and all air defense systems. Auxiliary planes and helicopters are in other commands: communications, information and intelligence; educational; support
The most modern fighter aircraft of the French Air Force - "Rafale". It is supposed to purchase more 130 of such machines, now there is 85 (44 C, 41 training and combat B). The main combat aircraft is still "Mirage-2000". In the ranks is 170 machines of this type are five modifications (23 older fighters C, 32 upgraded fighter 5F, 29 intended for nuclear strikes N, 8 combat training in, 78 most modern drum D; else 27 C, 2 5F, 24 N, 9 B are in storage). The 3 generation Mirage-F3 fighter 1 (1 CT, 2 B; another 13 C, 13 B, 3 C-200, 39 CT in storage) remain in service. In addition, 17 Mirage-4 medium-range bombers and up to the Jaguars 67 attack aircraft are in storage. The Strategic Command is armed with 84 ASMP cruise missiles (can be used with Mirage-2000N and Rafale), for which there are 58 — 60 nuclear warheads TN-81.
As a combat, 8 reconnaissance aircraft Mirage-F1CR (still 29 in storage) and 110 training-combat Alfa Jet (still 41 in storage) can also be used.
The arsenal consists of X-NUMX E-4F early warning aircraft, X-NUMX C-3G electronic reconnaissance aircraft, 2 tankers (X-NUMX C-160FR, 14 KC-11R).
There are more 150 transport aircraft. 2 C-400R (still 50 in storage), 34 C-160H, 21 Spanish CN-14M, 130 Brazilian EMB-27 (still 235), 24 Brazilian EMB-121 (still 9), and 15 Brazilian EMB-50 (still 100), and XNUMX Brazilian EMB-XNUMX (still XNUMX), and XNUMX Brazilian EMB-XNUMX (still XNUMX), and XNUMX Brazilian EMB-XNUMX (still XNUMX), and XNUMX Brazilian EMB-XNUMX (still XNUMX), and XNUMX Brazilian EMB-XNUMX (more XNUMX), and XNUMX Brazilian EMB-XNUMX (still XNUMX), and XNUMX Brazilian EMB-XNUMX (still XNUMX); VIP passengers transportation. In service is the XNUMX training aircraft (except for the aforementioned Alpha Jets) and about XNUMX helicopters.
Ground defense make up 5 squadrons of the newest air defense system "Mamba" (SAMP / T). Each squadron has 2 batteries, the battery has 4 — 6 PUs for 8 SAMs. They are designed to defend the air bases of the Air Force itself.
The naval forces in France carry the bulk of the country's nuclear potential. The 4 submarine nuclear-guided ballistic-missile nuclear-powered submarines of the Triumfan type are based on the Atlantic coast of the country. Each submarine carries 16 ballistic missiles (SLBMs). In total, the 48 SLXX M45 is in service; more advanced SLXNXX SLBMs, which the 51 is supposed to acquire, are being put into service. Both the M60 and the M45 can carry up to 51 nuclear warheads, with a total of available for these 6 SLBMs TN-290 YaBCh.
In addition, as part of the underwater
fleet
there are 6 Rubis-class submarines (all based on the country's Mediterranean coast); instead, it is planned to purchase a similar number of Barracuda-class submarines.
The only nuclear-powered aircraft carrier Charles de Gaulle is also based on the Mediterranean. Most of the time this not very successful ship is under repair. In France, the possibility of building an aircraft carrier with a conventional power plant instead is being seriously discussed.
Formally, there are no destroyers in the French Navy, ships of this class are called "1 rank frigates." These include 2 modern ship Forbin type, built on a joint project with Italy, 9 older ships (2 type Kassar, 7 type Georges Leghi), as well as 1 type Aquitaine. The latter are built according to the FREMM project, also jointly with Italy, in total they are supposed to build 11 (instead of "Kassarov" and "Legs"). In Italy, similar ships are considered frigates.
There are also 23 "classic" frigate - 5 type "Lafayette", 6 type "Floreal", 9 type "D'Estin D'Or".
For the protection of the economic zone of the country, including overseas territories, 14 patrol ships are used, having a long cruising range with purely symbolic weapons.
The Navy has 18 minesweepers: Eridan type 11, Vulcan type 4, Antares type 3.
The basis of the landing forces are 3 universal landing craft of the type "Mistral" (similar now for some reason being built for the Russian Navy). There is also an amphibious transport dock "Sirokko" and 2 amphibious assault ships of the type "Batral".
Naval aviation has 60 deck combat aircraft - 25 newest Rafale-M (still 9 in storage pending modernization, will be built before 20 machines), 35 of old Super Etandar (3 in storage). Also available is a 3 decked-off plane for early warning of the E-2C. At the same time, as mentioned above, the only aircraft carrier from which these aircraft can be used is more often under repair than at sea.
Naval aviation is also equipped with 26 basic Atlantic-2 patrol aircraft (2 is still in storage), 24 transport aircraft, 16 training aircraft, 26 anti-submarine helicopters Lynx МК4 (4 in storage), 54 multi-purpose and transport helicopter 13 AS365F, 17 AS565SA, 14 SA319B, 7 NH90, 3 EC225).
There are no foreign troops in the country, while France itself has contingents in its own overseas territories (Guiana, Polynesia, Reunion), as well as in former African colonies (Djibouti, Chad, Côte d'Ivoire, CAR, Gabon, Mali, Senegal) . However, these contingents are very small and, rather, symbolize the French presence. As recent events in Mali and the Central African Republic have shown, France seeks to use the troops of African countries as infantry, if necessary, because their soldiers don't feel sorry for anyone. As a last resort, from the French side, the Foreign Legion is used, since no one's own, and especially foreign felons, also feel sorry for themselves. Basically, the French are limited to technical and aviation support.
Given the geographical location and the complete absence of external threats, the capacity of the French Armed Forces is more than enough to ensure the country's defense. They can also be used for limited intervention. However, the geopolitical ambitions of Paris are much greater than its real military capabilities. After the completion of the Rafale production program, a quick reduction in the number of combat aircraft will begin (due to the release of the Mirage-2000), and a serious crisis threatens the aviation industry of the country, since the export prospects of Rafale are not obvious (it is very expensive) and no new programs simply no. In a very foreseeable future, the French Armed Forces will lose the ability to conduct even very limited independent operations. This is what explains the country's return to the military structure of NATO. However, the capabilities of the alliance as a whole are also rapidly declining.