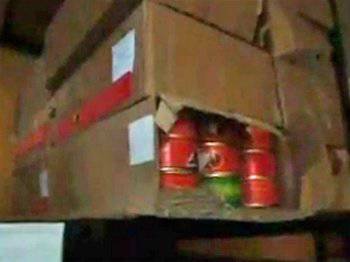 In the Primorsky Territory, during a prosecutor's check of a military unit where Major of the Interior Troops of the Ministry of Internal Affairs of the Russian Federation Igor Matveyev served, telling that in Vladivostok the soldiers of the internal troops fed on dog food, the theft of canned food from a food warehouse worth 1 million rubles was revealed.
The military prosecutor's office of the Eastern Military District reported on Monday that, according to the investigators, the embezzlement data was committed by the head of the food warehouse of the military unit.
"According to the military prosecutor's office of the Spassk-Dalniy garrison, he (the chief prod) is suspected of stealing food from the warehouse for more than 1 million rubles, including canned Beef in its own juice, the report said.
According to the investigation, in order to conceal the shortage, the labels were re-glued onto cans of canned food with dog food, which should not be used by soldiers for cooking.
"The materials of the prosecutor's check are sent to the military investigative department of the Spassk-Dalny garrison to initiate a criminal case," the report says.
In addition, inspections carried out earlier by the military prosecutor's office of the Ussuriisk garrison in the unit where Matveyev served, established the facts of illegal residence of foreign citizens and construction work in the part located in the city of Vladivostok.
To eliminate these and other violations of the law and bring the perpetrators to justice, the commander of the Eastern Regional Command of the Interior Forces of the Ministry of Internal Affairs of the Russian Federation made 2 submissions. Two officials announced warnings about the inadmissibility of violation of the law, reports "Interfax".
Earlier it was reported that a video message was posted on the Internet by the chief of the military and security service of the 107 Brigade headquarters (military unit N6890, Vladivostok) Major Igor Matveyev.
In his address, the officer said that conscripts and contract servicemen were fed dog food. In addition, as follows from the video, 18 guest workers from China illegally reside in the territory of the military unit, and any car, including a taxi, can enter the territory of the unit without inspection.
Commenting on this information, Vasily Panchenkov, head of the press service of the Internal Troops of the Ministry of Internal Affairs of the Russian Federation, said that canned meat is bought by the Internal Troops for service dogs, stored in warehouses and cannot get to the soldier's table.
Speaking about construction work, Panchenkov noted that civilian contractors, who form civilian construction teams, form civilian contractors in the territory of the military unit.
"Despite the fact that Matveyev was dismissed from military service, his video message will not be ignored. All information will be verified, although all previous similar complaints of the major have not been confirmed," Panchenkov stressed.