The tragedy occurred on one of the railway spans of the Moscow region (distilled Bekasovo-Naro-Fominsk). Passenger train №341 Moscow-Chisinau collided with a freight train.
Interfax
with reference to the Moscow Region Ministry of Health, reports that as a result of a train collision, the number of victims reached 50 people. In this case, doctors say that the announced number is not final.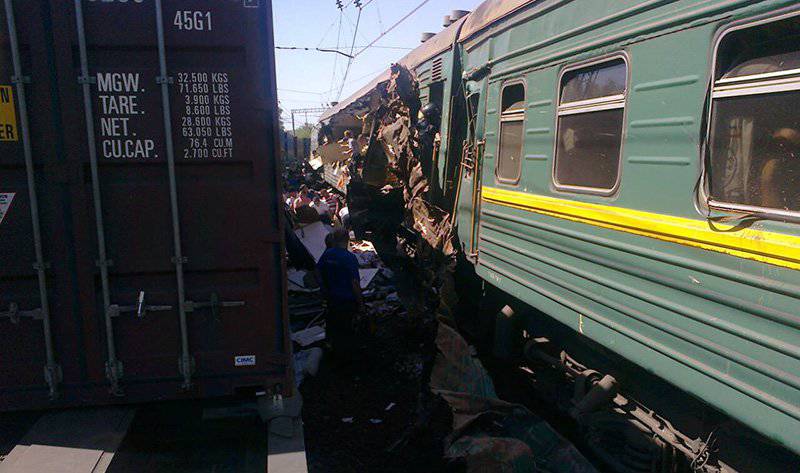 Five people who were in the most affected car died. Several emergency services wounded by helicopters were taken to the intensive care unit of Moscow hospitals. A few more victims were placed in the hospital of the city of Naro-Fominsk.
News agencies have reported that a train collision occurred during the day on May 20 in approximately 80 km from the capital. The Emergencies Ministry said that the cause of the collision was the derailment of several wagons from the rail track. The brunt took one of the central cars of the 341 train. In total, there were about 400 people in the passenger train.
According to preliminary data, in one of the cargo platforms of a freight train, a malfunction proved itself, which was the beginning of the tragic events. The EMERCOM of Russia claims that the freight train belongs to one of the Ukrainian carriers and, according to Russian Railways, transported spare parts for the Renault plant from Romania. The depreciation of the cargo platforms of the train is confirmed by the employees of the Russian Railways who work at the accident site.
According to another version, the cause of the tragedy could be a deformed rail.
Vladimir Puchkov, Minister of Emergency Situations of the Russian Federation, and Anatol Patrascu, Consul of the Republic of Moldova, left for the state of emergency.
In connection with the accident, the schedule of movement of trains on the Kiev direction was revised.