In the Donetsk People's Republic, which declared 11 on its sovereign status in May, the authorities are starting to talk about large-scale nationalization. The head of the Presidium of the Supreme Council of the DPR, Denis Pushilin, said that the process of nationalization begins due to the fact that the local oligarchy does not want to pay taxes to the republican budget. Reports about it
Interfax
.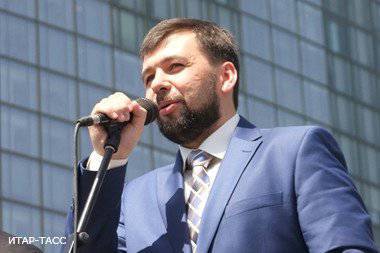 In his microblogging Pushilin wrote:
In connection with the reluctance of regional oligarchs to pay taxes to the budget of the DPR, it was decided to begin the process of nationalization.

If the process of nationalization in the DPR really begins, then first of all it can touch the richest man of Ukraine, Rinat Akhmetov, whose condition Bloomberg estimates at about 22,3 billion dollars. Akhmetov's companies are the largest taxpayers in Ukraine, however, the lion's share of taxes settles in Kiev, although the production facilities themselves are most often located in the Donbas. Akhmetov is also the president of FC Shakhtar, and what will happen to the club if Akhmetov's assets really pass into the hands of the Pitmen is still unknown.
Reports of nationalization in the DPR appeared after Rinat Akhmetov decided to sponsor rallies against the Donetsk People's Republic. It is reported by TC "Ukraine" with reference to the oligarch. How much Akhmetov promised to those who came out in the cities of the southeast, speaking out against the sovereignty of Donbass, is not specified.
Denis Pushilin said that the process of nationalization in the DPR will affect the assets of only the local oligarchy.
Denis Pushilin - 33-year-old native of Makeevka. A graduate of the Donbass National Academy of Civil Engineering and Architecture. He served in the ranks of the Internal Troops of Ukraine (National Guard) from 1999 to 2000. In the biography of Denis Pushilin journalists
Zn.ua
found a page corresponding to his active work in the project "MMM-2011". Pushilin himself does not confirm his functionary work in "MMM-2011".