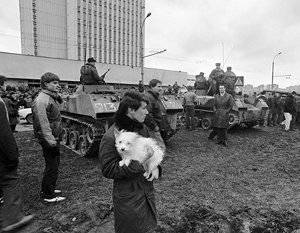 According to the newspaper
"Sight"
, 14 May Vasily Kotlyarov was arrested at the Milan airport and accused of "involvement in the Vilnius 1991 events of the year." According to lawyer Renato Muzell, this is an attempt by Lithuania to "take revenge" on Russia. In addition, Muzella noted that the foundations of Italian justice are being violated in the Kotlyarov case, and the events in which he is accused were generally occurring back in the USSR, and not the European Union.
As Kotlyarov's defenders point out, they are trying to ensure that the Russians are not given out to the Lithuanian side. According to one of the lawyers of the detainee, Alisa Krapchatova, in January 1991, Kotlyarov was an officer in the 76 of the Pskov Airborne Division, but he denies his guilt, because he was not in Lithuania during the events 23-old.
Representatives of the Prosecutor General's Office of Lithuania reported that they would seek the extradition of the arrested. He is currently in the Busto Arsizio prison in Milan.
According to Russian defenders, Vilnius's request to detain and extradite Kotlyarov is contrary to the norms of the European arrest warrant. Lithuania joined the European Union in 2004, while the events of January 1991 took place in another state and another legal field.
It is worth recalling that a similar incident occurred in the summer of 2011 of the year. At that time, Austria refused to hand over to Lithuania the former head of the Alpha special forces, Mikhail Golovatov. According to Russian Foreign Ministry spokesman Alexander Lukashevich, Russia will continue to press Lithuania to end political harassment on "falsified pretexts," an example of which is the case of Algirdas Paleckis, who was accused of "denying Soviet aggression."