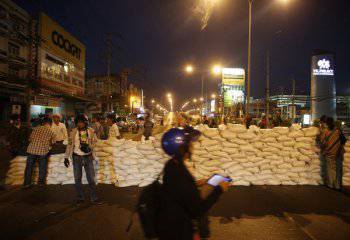 According to the
"Rossiyskaya Gazeta"
, on the evening of May 19, the Thai Armed Forces reported on martial law to stabilize the situation in the country. According to the military, this is "not just another coup," but an attempt to ensure "peace and law and order." According to eyewitnesses, at the moment in Bangkok calmly, although experts do not rule out the beginning of a new stage of the crisis.
It is worth recalling that the political situation in Thailand was destabilized six months ago. Then began the confrontation between supporters and opponents of the current government. Normal life in the country was paralyzed.
Thailand's Constitutional Court recently dismissed Prime Minister Yingluk Chinawat, accused of abusing power. At the same time, nine more ministers lost their positions. The Minister of Commerce became the interim head of the Thai government, but formally the power remained with the same political forces that are going to take revenge in the next elections. In turn, their opponents want to see their protege as the head of government.
To prevent full-scale chaos and possibly civil war, the commander of the land forces of Thailand, Prayut Chan-Och, signed a decree on martial law, citing a law of a century ago, giving the military the right to intervene in the event of a crisis.
"All this is definitely not a military coup. Everything is done only to ensure the safety of people so that people can live a normal life," an anonymous representative of the military command said.