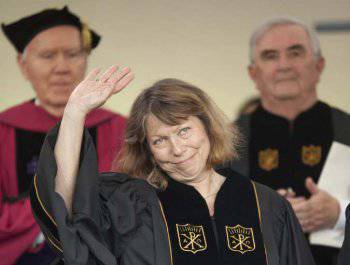 According to the
"Reedus"
Jill Abramson, editor-in-chief of The New York Times, has lost her position because of excessive autonomy and refusal to comply with "corporate standards". According to local media, the owners of the publication decided to replace it with the former Los Angeles Times editor Dean Beckett in connection with the publication of a report from Slavyansk on May 3.
In particular, in a published article, journalists reported that there were no citizens of the Russian Federation in the pro-Russian militia, noting that for the most part it consists of local residents, some of whom had previously served in the Ukrainian and Soviet armies. This is one of the few reports that presented an "alternative point of view," which caused criticism from representatives of the US State Department.
It is worth noting that Jill Abramson has a reputation as a stubborn and aggressive leader. She often made policy decisions that contradicted the opinion of New York Times CEO Mark Thompson.
"Abramson made voluntaristic decisions without consulting with colleagues and not wanting to build productive relations with me. In the end, I came to the conclusion that she had completely lost the support of her colleagues, "said publisher of The New York Times Arthur Sulzberger Jr. in an interview on one of the TV channels.