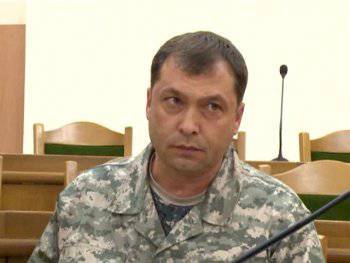 According to the news agency
"Vesti"
, the head of the Ukrainian security service, Valentyn Nalyvaychenko, confirmed reports that the release of the head of the Lugansk People's Republic, Valery Bolotov, was due to the "betrayal" of a certain person who took a bribe to resolve this issue.
"Criminal liability of a person who resolved this issue for money is inevitable," Nalyvaichenko said at a press conference in Kiev. At the same time, the head of the SBU did not specify who exactly was the "traitor".
According to the agency, 17 May at the checkpoint "Dovzhansky" in the Lugansk region began a fierce battle, during which "armed people were able to recapture the people's governor of the Lugansk people's republic Valery Bolotov."
According to the Border Guards of Ukraine, the border guards detained Bolotov in 5: 45, informing the law enforcement agencies about this, but the help from the security forces never arrived. The press service of the agency reported that more than a hundred armed individuals were able to repel the people's governor from the border guards.
It is worth noting that a few days before that Bolotov survived the attempt, he was treated in a private clinic.