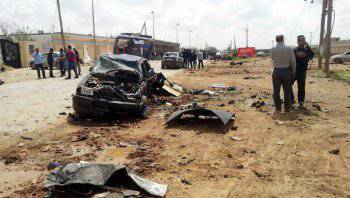 According to RIA
"News"
, with reference to the agency
Rider
Libyan Special Forces Commander Vanis Buhamad said that Libya's special forces are taking the side of the rebellious General Khalifa Haftar.
Earlier it was reported that a military air base, located in the east of Libya near the city of Tobruk, joined the forces of Haftar.
Last Friday, Haftar-controlled units attacked Islamist positions in Benghazi without informing the current authorities in Tripoli. The clashes killed 43 people, more than 100 people were injured. During a speech on one of the TV channels, Haftar made a promise to "clean off the terrorists" the largest city in the east of Libya. According to the current Libyan authorities, the clashes in Benghazi are "an attempted coup d'état."
Sunday in the capital of Libya occurred
armed clashes
between the militants of extremist groups and supporters of General Haftar. The forces of the rebellious general occupied the parliament building, from which all deputies were evacuated. During the fighting killed more than 50 people. Algeria, the UAE and Saudi Arabia reported closing their embassies in Tripoli. Until 25 May, the operation of the airport in Benghazi was suspended.