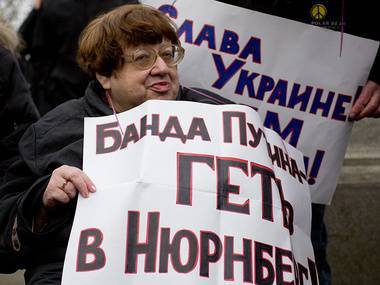 See what this dual-citizenship woman writes:
Judging by the "referendum", in Mariupol, Slavyansk, Donetsk and Lugansk there are not only traitors to Ukraine, but also fantastic idiots who have fallen into the Russian trap, the dissident and publicist Valeria Novodvorskaya is convinced.
Putin needs Donbass as a stronghold in order to spread out with Colorado trees and pears all over Ukraine. About this Gordonua.com said the Russian opposition, dissident and publicist Valeria Novodvorskaya.
"I'll say one thing to all residents of the south-east of Ukraine who are so eager to become part of Russia: you are bad citizens for any state because they are despised everywhere. I am sure that if someone gives more than Russia, you will quickly announce another "referendum". But no one will give you anything. Russia, by the way, also, hack on your nose.
In Crimea, "citizens" also dreamed of a Russian paradise. Now, on the peninsula, they are going to introduce food cards, and the water will be spent on 2017 year. In the meantime, Russian Crimeans sit without water.
Vladimir Putin adored by you has absolutely no means to feed the Donetsk and Lugansk "people's republics". I recall that the coal mines in the Rostov region have long been closed due to unprofitability. So, dear pro-Russian residents of the south-east of Ukraine, you will not get even miserable 30 silver coins from Putin. And the "referendum" of 11 May once again proved: you are not only traitors, but fantastic, to historical unconsciousness, idiots. The Russian border is not far, we could go on an excursion, look at the "Putin paradise". In general, your children and grandchildren will have to pay a long time for your own stupidity.
In the Kharkiv region no covenant with voting is carried out. Why? There are not enough traitors even to imitate a "referendum". But in Mariupol, Slavyansk, Donetsk and Lugansk traitors and classical idiots were found. They wanted to get into the Russian mousetrap. Here are just a little honor for a mouse to be caught in such a cheap trap.
If the United States, which the pro-Russian comrades hate so much, would have offered "people's republics" to join (and in America, the pension is 20 times higher than the Russian one), they would run headlong. That's just such junk, even Russia will not pick up. If you dream about Putin's Russia, move, and leave the Ukrainian territory alone.
I am convinced that if Ukraine does not finish off a reptile in the form of a Russian fifth column, then a reptile will finish off Ukraine. Everything was offered to the separatists: the decentralization, the status of the Russian language, and self-government. But they chose the role of Judas. Only Jude himself hanged himself, but they are not going to hang themselves, they want to hang all of Ukraine. Those who are at the same time with the aggressor are traitors, enemies and traitors. You can not care about their fate, but official Kiev must win the battle in the Donbas, otherwise it will lose all of Ukraine.
It is necessary all Ukrainian troops (except those that protect the isthmus separating the Crimea) urgently transfer to the eastern borders. Now the Colorado will declare that in the "referendum" 80% of Donbas residents voted for separation from Ukraine. It is not difficult to guess what will happen next. Putin needs Donbass as a stronghold in order to further spread throughout Ukraine with Colorado and Gruchnikam. Ukrainian authorities have been busy with the separatists for too long. It was impossible to allow a "referendum". In extreme cases, it was necessary to raise the planes and bomb the captured buildings.
Original publication:
Gordonua.com