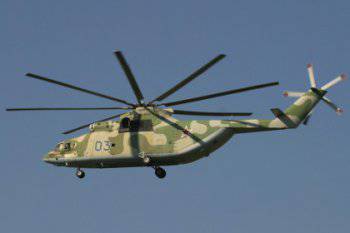 According to the
lenta.ru
, with reference to the newspaper
Kommersant
, during the visit of Russian President Vladimir Putin to China 20-21 in May 2014, the parties will discuss the project of deep modernization of the heavy transport helicopter Mi-26 taking into account the requirements of the Chinese military.
It was originally planned that the Chinese side will receive ready-made Mi-26 helicopters, but this did not suit the potential customer, therefore Russia proposed the concept of a deep modernization, which will be carried out "practically from scratch". Beijing needs helicopters with a carrying capacity of up to 15 tons.
It is possible that in the future in China will launch a joint production of upgraded helicopters. A promising project will be discussed by Deputy Prime Minister Dmitry Rogozin and CEO of the Helicopters of Russia holding Alexander Mikheev.
It should be noted that in the framework of the two-day visit of Vladimir Putin to China will be considered about 30 different agreements. In particular, the issue of a "suspended" contract for the supply of Su-35 fighters will be resolved. Earlier, Beijing asked Russia to equip the aircraft with Chinese radio-electronic equipment, but it will be difficult to conduct tests of such a configuration in Russia.
In recent years, Russia and China have been actively engaged in military-technical cooperation. According to the Federal Service for Military-Technical Cooperation, in 2013, China spent 1.8 a billion dollars on the purchase of Russian military equipment and weapons.