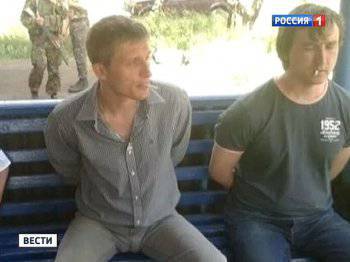 According to the information agency
"Vesti"
, Ukrainian television showed footage
detentions of journalists
LifeNews
. Oleg Sidyakin and Marat Saychenko with bags on their heads and handcuffed kneeling under the sights of machine guns. Nearby are personal belongings, money and equipment with which they worked.
"In fact, they are part of terrorist groups. Their video, which will soon appear on the Internet, is direct evidence of the promotion of terrorism, a conspiracy with terrorists, and help for terrorists. This is not journalism. It is a crime. Things should be called by their proper names. These are not journalists, this is informational support for terrorist groups, "Victoria Syumar wrote in the social network of the deputy secretary of the Security Council of Ukraine.
ITAR-TASS
cites comments by a member of the Presidential Council for the Development of Civil Society, Maxim Shevchenko, who is negotiating the release of Russian journalists detained by the Kiev authorities.
"They are accused of having participated in the interrogation of Alpha officers by militias, during which force actions were used, allegedly journalists asked questions at the same time. Most likely, the detainees will be charged with participation in these interrogations, we will insist on open advocacy. We turn to well-known Kiev lawyers with a request to defend them, "he said.
According to RIA
"News"
, Russian Foreign Minister Sergei Lavrov called on the OSCE to assist in the release of Russian journalists.
"We expect the leadership of the OSCE to take decisive actions in this direction and a public reaction to the flagrant cases of violation of media freedom in Ukraine. We presume that the Ukrainian authorities should take immediate steps to free Russian journalists and give up in the future pressure and intimidation against media representatives under obviously far-fetched pretexts, "commented the situation to the Russian Foreign Ministry.
In turn, the OSCE sent a letter to the head of the Ministry of Internal Affairs of Ukraine, Arsen Avakov, demanding the release of Russian journalists and thoroughly investigate what happened.
It is also worth noting that LifeNews editor-in-chief Anatoly Suleimanov said that in Ukraine, some of his employees are offered a reward of 20 thousand dollars for the heads.
"There is one hundred percent information that the amount of $ 10 thousand was assigned to the heads of some of our employees in Ukraine, and now $ 20 thousand," he said in an interview on the Russian Service radio station
News
».