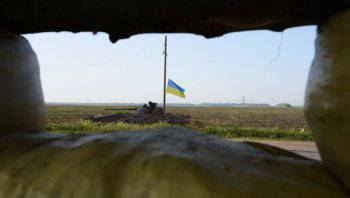 According to RIA
"News"
, with reference to the press service of the Ministry of Defense of Ukraine, on Monday a group of unidentified armed persons attacked a roadblock near Amvrosiyivka in the territory of the Donetsk region. As a result of the collision, one attacker died, another seven were injured, no injuries among the Ukrainian military.
The press service of the department noted that around Monday at 12: 30 Moscow time, ten cars arrived in a checkpoint near the Uspenka checkpoint on the state border with Russia, in which there were more than fifty unknown armed men. The militants broke up into groups approximately 400 meters from the roadblock and started shooting at the Ukrainian soldiers, who "accepted the battle", giving "adequate resistance". The fight lasted about half an hour.
"As a result of the armed confrontation among the Ukrainian soldiers, there are no casualties," the press service informs. It is noted that one assailant died, another seven were injured. Also, the military destroyed several cars.
It is worth noting that the representative of the press service of the Donetsk People's Republic Vitaly Ivanov did not confirm the data of the media about the death of a militiaman during a clash near the border with Russia. Some media cited evidence of local residents about aimed fire, open to passing cars. According to Ivanov, this is "information from a very unreliable source."