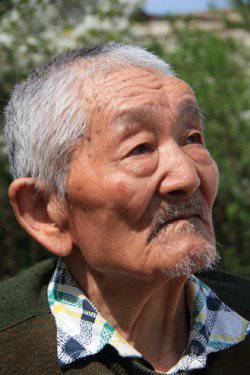 Air emperor of the imperial army of Japan, cavalier of the Order of the Golden Kite, fighter pilot Senior Lieutenant Yoshitiru Nakagawa survived World War II, but he does not live in Japan at all - in a remote Kalmyk village near Iki Burul. No, he is not hiding from anyone there and is not lurking ... It was just in these steppes that he found his last landing strip, his last airfield, and his fellow villagers know him as a former tractor mechanic, a simple rural retiree ...
And the local steppe is in fact an airfield, no — a space launching area, and a highway running straight from Elista to Iki Burul — so much like a runway. We are going to the village of Yuzhny, in which Yoshitiru Nakagawa lives, or the samurai uncle Sasha, as the locals call him.
When I learned that a former Japanese pilot-ace was being acquired in Kalmykia, I took it as a joke. But life is much more whimsical than any fantasy. And here is the truth of the fact about which the 94-year-old old man told ...
He comes from an acting family in Tokyo: nine sisters and two brothers. Yoshitiru was the eldest. When the Great Eastern Asian War began (the Second World War was called in Japan), Esiteru entered the flight school, but did not finish it - he was sent to the front. So I had to finish my studies in air battles over Burma, the Philippines, near Singapore.
He fought desperately - on his account 18 shot down American aircraft. 58 wins less than that of Richthofen of the East - Feldwebel Hiromichi Sinahara, but still enough to receive the Order of the Golden Kite and the title of "Tui" - the senior lieutenant.
For bravery, he was ranked as a samurai caste and was given a katana, a traditional samurai sword.
In 1945, Nakagawa was badly wounded - a fragment of an American anti-aircraft projectile damaged a hip joint. The senior lieutenant was unsuitable for flight work, and his commissioners. The red-enamel cross of the Shogund-zinsho "for the injury" was his last battle award. With him, he went to his parents, who lived in the city of Taiohara (now Yuzhno-Sakhalinsk). It was here that he found the end of the war. Soviet troops entered the city, and Yoshitiru Nakagawa was supposed to join the ranks of prisoners of war compatriots. But samurai do not surrender. Yoshitiru had a samurai tanto dagger, and he made himself a harakiri. The military doctor Oleg Terentyev sewed up his open stomach and saved an 25-year-old officer. Saved his life, but not a samurai honor. The Bushido Code of Honor does not recognize unsuccessful attempts to take a life. Tanto, a dagger for hara-kiri, and a surgeon's scalpel reshaped the fate of the ace. And for Yoshitir, a new life began - Russian.
Almost eight years of Siberian camps: Khabarovsk, Tomsk, Novosibirsk, Kansk ...
My aunt Tamara Ivanovna Krylova, an agronomist, worked in those days in the Far East and dealt with Japanese prisoners of war. In her book "The Leaflets of Fate" she told:
"From their camp they went to work in a military way, in order, with a platoon and always with the same song. It was Lebedev-Kumach's "Moscow May" song, or rather, not the whole song, only one verse and chorus. It used to happen that the columns could not be seen on the road in the taiga, and in the morning fresh air one could hear far away: "My country, my Moscow, you are the most beloved!".
They did not sing it all together, but in platoons. The first platoon will sing half the verse, then the second platoon sings these words, the third ute, then the first platoon again sings the second half of the verse, followed by the second platoon the same half, then the third, and so on. And these words were enough for them for a long time, because they repeated in parts, alternately and repeatedly.
I don't know if they knew the meaning of the words, but under the cheerful cheerful motive it was more fun to march along, and they loved this song very much.
Discipline they had the strictest, but they obeyed only their commanders. It was useless for an ordinary soldier to explain something or make a comment — he would ignore everything, you are an empty place for him. He pops out, for example, beets, and leaves a weed. No matter how you show him what to do on the contrary, he will continue to do it in his own way. But only the boss will make a remark to him - he immediately begins to do it right, redoes the whole series from the beginning and never again makes a mistake.
However, they worked mostly in good faith. Competed among themselves. A red pennant was put on the field ahead - who will reach the finish first. Weed very quickly, with two hands.
It was necessary to pick cucumbers on the field. I did not dare to put one of my own - they would trample more. The Japanese are working carefully and barefoot. She explained to VK which cucumbers to collect, in which container, and went to another field. I come back to dinner and I see that everyone is sitting and having lunch, and one soldier stands at attention. I ask why the soldier does not eat lunch.
- And he eat a cucumber, eat.
That is, when collected, I ate one cucumber, and for this he was deprived of dinner and set to stand when everyone sat and had dinner. So, they have collected so far, have not eaten a single cucumber? This was astounding by our standards. I say: here's a box of cucumbers for you, eat it. They smiled, pleased. "Now you can eat, eat."
Yoshitiru Nakagawa fell on a logging site, poured pine trees, larch trees in the taiga ... In winter, in Siberian frosts, hellish work. Even now he tries not to remember the eight years he spent in the camp barracks.
- To the left lies - dies. Right neighbor is - also dying. Only lips moving "I want to eat."
And he survived. Maybe the young body sduzhil, maybe after the hara-kiri wanted to live with a vengeance ...
In the 1953 year he was allowed to leave home, but by that time he fell in love with a Russian girl - Tanya Gorbachev.
Taiga novel under Kansk promised to give him a son. And he decided not to return to Japan. In addition, he was confronted with the shame of an unsuccessful hara-kiri, unacceptable for a real samurai.
Nakagawa took Soviet citizenship and married Tanya. Began to live in Uzbekistan, in the Khorezm region. Tanya, besides the son Leni, presented him with a daughter Galya. It was necessary to have a large family, and Nakagawa traveled through the boundless country, hiring for seasonal work. He knew how to fly and shoot down planes. But this skill remained on the other side of life. And the former pilot sat down at the tractor's levers. He mastered several working professions in the forest industry ... In the distant Dagestan, where the search for work was brought, he was saddened by the news of his wife's premature death.
He returned home, gave the children for the upbringing of his wife's relatives, and he himself went to work again. At the end of 60, he moved to Kalmykia and settled in the small village of Yuzhny, where he found a new life partner - a local widow of many children of the Kuban Cossack Love Zavgorodnaya, helped her raise her younger daughter Oksana, sons Alesha and Ignat. He worked as an inspector of the dam of the Chograi reservoir, fished, set up his own garden, got on well with his fellow villagers. They called him in his own way - Uncle Sasha.
But at home, in Japan, he was remembered and searched, although they knew that he had done hara-kiri. Mother did not believe in his death until the end of her life ...
He had two brothers and eight sisters, and they, through the international Red Cross, managed to make inquiries that the former Japanese officer Yoshitiru Nakagawa did not die in 1945, but lives in the deep Russian province. They appealed to the Japanese Embassy in Russia to conduct a DNA examination. And she confirmed the consanguinity of the Nakagawa sisters and brothers living in Hokkaido with a rural pensioner from the Kalmyk village of Yuzhnoye. And then his younger sisters Toyoku came to Elista and took her brother to Tokyo. Half a century later, he again appeared in the sky aboard an airplane, this time as a passenger. What was he thinking flying above the clouds? Did he recall his desperate air attacks, or revive the lines in his memory
tank
:
Smoke, floating and melting in the sky azure.
Smoke, floating and melting, -
Doesn't he look like me?
And still lived in the heart of anxiety: suddenly countrymen will be met with ridicule over his failed samurai feat? However, he was greeted as a national hero, ace pilot, holder of the highest military awards.
"I visited Hokkaido," Yoshitiru says. - Native places since the war did not know. Visited with the sisters in Sapporo. I visited the town of Kibai with my younger brother Yosiu - he has his own restaurant there. Visited the grave of the mother, she died for 13 years before my return. It turned out that my mother did not believe in my death and waited for me patiently all these years. No wonder they say, maternal heart can not be fooled ... But my father died in the winter of 1945. I learned that my beloved son made himself hara-kiri, washed down his grief and froze in the Sakhalin snows.
No matter how good a guest, but Yoshitir, to the amazement of his relatives, gathered home in Kalmykia. He was persuaded for a long time, promised a personal military pension, a comfortable apartment in Sapporo, but he had already chosen his way long ago.
- Well, how could I leave my grandmother? After all, lived around 30 years. She was also called to Japan, but she flatly refused: where am I supposedly without my TV shows? And I almost forgot my native language, I had to express myself with gestures without an interpreter. And then there is very noisy and terrible cramping. We have - steppe expanses!
He is back. Now he was known in Kalmykia.
- President Kirsan Nikolaevich Ilyumzhinov gave me a home. - Yoshitir says with gratitude the name of the President of Kalmykia.
The house is not so hot, but still stone and with gas heating. Now you do not need to store firewood for the winter. True, water pipes are leaking. But this is an everyday matter ... In his considerable years, Nakagawa is not idle - caring for the garden, growing goslings. There is one chicken in the farm.
- Why only one? Where's the cock?
And then Esiteru told
history
about how the neighbor threw the half-dead chicken, and he picked it up and left. With a pipette, he gave medicine. A wonderful Crested Chicken has grown, which now gives a fresh egg every Sunday to its savior and master. A true friendship ensued between the gentleman of the Order of the Golden Kite and the chicken, which, of course, never gets into the broth.
"In the autumn of 2007, Esitira Nakagawa," says Svetlana Gilyandikova, chairman of the Kalmyk-Japanese Friendship Society, "became the hero of the TV show" Wait for Me. " In the studio, he met with his son, Lenya, and his granddaughter Esen, who live in Bashkiria. Leonid is already 60, he has worked as a welder all his life, he retired long ago for his years of service, raised two daughters.
That meeting uncle Sasha turned her whole life. Despite his more than old age and poor health, he wants to live, to see Leonid, he has an incentive. The son has already come to visit his father, writes letters, often calls. By the way, they could have seen before. Long before the village administration (I then worked as the head of it), the editors of the "Let They Speak" TV program called and invited Nakagawa to take pictures. We gathered Uncle Sasha and Aunt Lyuba on the road, bought them exit clothes and tickets to Moscow, but they at the last moment refused to go. Persuaded them all village - it is useless.
Like any normal person, Yesitiru Nakagawa is not happy with such heightened public interest in his person. He is not going to flaunt his life, however unusual it may be.
He has long gone from the bustle of everyday life, although people do not leave him alone. Guests come to him - not invited - from different places. Gifts are brought, one Muscovite handed him a samurai sword that hangs on the carpet. TV reporters came, made a film about him, brazenly forcing the old man to bare his stomach and show the monstrous scars from hara-kiri. For them, the Japanese pilot was a living sensation and nothing more.
... Yes, during the Second World War, Esitiru fought on the side of the Axis countries, shot down American aircraft. But how could he blame him when, five years after the end of the war, the Soviet aces, led by the legendary pilot Ivan Kozhedub, were shot down in Korea with the same B-29 as Senior Lieutenant Nakagawa? And at that time he was piling Siberian pines in a camp padded jacket ... How bizarre and ephemeral are the grimaces of politics.
In Burma, he saw cricket fights and rode elephants. He saw Emperor Hirohito. I saw the trunks of pine trees burst on 50-degree frost ... He saw a lot in his nearly 100-year life.
There is an impenetrable mask on his face, it reads clearly on her: I do not regret, call, or cry. Everything went, except for white apple smoke. The apple trees in the Nakagawa garden, like the 94 of spring, are back in white smoke. And cherry blossoms.
- Sakura is blooming. - I say.
- Cherry. - corrects me Esitiru.
Aircraft flying over the South rarely, before, it happened, would prophet the corn-biplane motor from agricultural aviation. But storks often circle. And the old pilot is closely watching their flight. Does he remember his "nakadimo", the fighter, on which he threw himself into air attacks?
I ask:
"Esiteru-san, could you lift the plane to the sky today?"
- Not. Now the buttons are different.
- And if it was the plane on which you flew?
The old man grinned:
"Then I could ..." And he added. - The earth is different, and the sky is the same everywhere.
And how can you not remember the lines of Ishikawa Takuboku, written by him seven years before the birth of the future ace:
Homeland sky
How far are you!
I got up alone
On the high roof,
And sadly went down.