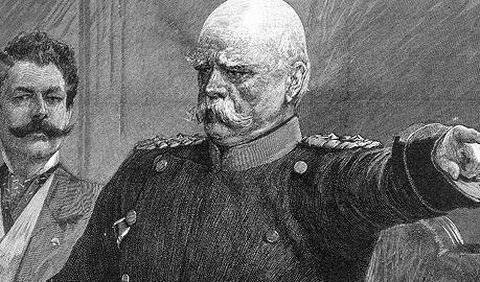 We have no complaints about Germany, Germany has us. Do they need to be pawns in the US game?
Otto von Bismarck, of course, does not need rehabilitation - his soul has enough respect for the Germans who now live in united Germany and many monuments established in his honor.
We, living now, have a bad idea that some one and a half century ago Germany, as a real state, did not exist - there was a loose conglomerate of German-speaking states, and their future unifier - Prussia - was not even considered to be even Germany, entering into this concept only part of their lands.
At the beginning of the 19 century, Germany consisted of 350 states of varying degrees of independence! And after the Napoleonic wars, although the unification process had already begun, up to the 1866 year - there were more than thirty German states.
And as a result of the activities of Otto von Bismarck, this very united Germany appeared - most of the Germans reunited within the framework of one state. Then, in the 19 century, it was still a novelty, and even during the First World War, some difference between the Prussians and, for example, the Bavarians was felt - but now it is not so. That is, Bismarck is reasonably considered to be also the creator of the modern German nation.
Russian diplomacy rather contributed to the unification of Germany than it hindered because it saw in strong Germany a counterweight for the more dangerous then France and England, the victors of Russia in the Crimean War. This was facilitated by the close friendships of Bismarck and the Russian Chancellor Gorchakov, who was in relation to Bismarck even not only a friend, but also a mentor. How true she, the policy, was was a separate question and not yet resolved.
First, about the subject of rehabilitation.
Bismarck knew the Russian people well, he lived in Russia for several years. Although this is not a guarantee - many foreigners even for a few years can not understand anything, but Bismarck was undoubtedly a very smart person. And he adhered to quite definite views on both us and our state.
He believed that under no circumstances it was necessary to quarrel with Russia, and even more so - to fight. In a difficult situation 19-th century, he foresaw the possibility of drawing Russia and Germany into the war because of membership in different coalitions, but always fought against this probability, being somehow certain that Germany will never, as such, be the object of aggression from Russia.
Also, as a legendary person, he acts as the author of many sentences, most of which, as usually happens, do not belong to him, or are greatly distorted, or simply cannot be confirmed by reliable sources. But among the more or less homogeneous in ideology ("Russians are harnessed for a long time, but they drive fast," "do not wake the Russian bear") there is one, often quoted, in whole or in part, in the light of current events:
"The power of Russia can be undermined only by Ukraine's separation from it ... it is necessary not only to tear off, but also to oppose Ukraine to Russia, pit two parts of a single nation and watch how a brother will kill a brother. To do this, you only need to find and cultivate traitors among the national elite and with their help change the self-consciousness of one part of a great nation to such an extent that it will hate everything Russian, hate its kind without realizing it. Everything else is a matter of time. "
The ideas of war against Russia were developed by his political opponents from the so-called. The Weekly Party, one of which, M. Betman-Golveg, later became one of the main instigators of the First World War, and as such was worthy of the gallows no less than any Ribbentrop, but this is a separate
история
. And he attributed this idea to Bismarck, maybe by mistake, a little-known Uniate writer (I. Rudovich, "Metropolitan Andrіya Sheptytsky's Entry to the Metropolitan Throne in Lviv" ("Theology", Lviv, 1926, p. 219)). Further, it was developed and supplemented by comments from various story tellers.
The fact that Bismarck was going to tear up Little Russia, and most importantly, that he wanted to defeat Russia with this, is pure invention of the Galician Uniates. In my opinion, he did not even know such a word - Ukraine - and the population of the Carpathian region usually called "Rusyns" (not "Little Russians").
Here is his own comment (from "Memoirs") about the area that we now call "Western Ukraine":
"In general, Galicia is less firmly attached to the Austrian monarchy than Poznan and West Prussia are to Prussian. This Austrian province, opened from the east, is artificially glued to Austria from the outside of the Carpathians; Austria could do without it if, instead of 5 or 6, millions of Poles and Ruthenians could get a refund within the Danube basin ".
In reality, Bismarck's position was simple and logical: Russia cannot be defeated permanently, in any way. Temporarily, it may be possible (and as he writes with a fair skepticism, "It's not so easy!"), But even by defeating and dividing the Russians, their subsequent reunification cannot be prevented, and instead of the safe eastern border, Germany will sooner or later get strong adversary, thirsty revenge.
At the time, this was not a trivial idea: a powerful national state was still a new idea in Europe. After all, states can be on other bases, not national ones - they can unite around a certain dynasty, or religion, or ideology ... For good reason the Austrian military, the inhabitants of the country where 10 millions of Germans ruled 40 millions of Slavs and Hungarians were supporters of the war against Russia. Their state was built on a different basis, not on national patriotism. But for some reason Bismarck was convinced that the "millions of Russians" are the basis of Russia.
Bismarck was not a pacifist either in words or in deeds. Both in his speeches, on the solution of "fundamental issues with iron and blood," and in deeds, when he deliberately provoked the war with France in 1871, he was to the limit a determined supporter of the national idea. There were few people in the world who created the nation — and Bismarck was one of those few.
He could not only attract the second most important German-speaking country - Austria, and not only because of the dynastic ambitions of the rulers of Austria - the Hapsburgs. The main reason - the Habsburgs did not want to give up dominion over many non-Germans, primarily Hungarians - and for this they abandoned the all-German crown, although they were offered it in 1849 year! But Bismarck still led his king, first to hegemony in the German Alliance, and then to the crown of the German Empire. Austria (then Austria-Hungary) missed its historic chance to lead the all-German state.
But we should be more interested in how Bismarck saw the future relations of this giant country with the European concepts with us - with Russia.
This is Bismarck's reliably documented opinion on how Germany should proceed from:
"Even the most successful outcome of the war will never lead to the disintegration of Russia, which rests on the millions of Russian believers in the Greek denomination. The latter, even if they are separated by international treaties, will reunite with each other as quickly as they find their way to each other by disconnected mercury droplets.
This indestructible State of the Russian nation is strong in its climate, its spaces and its unpretentiousness, as well as through the awareness of the need to permanently protect its borders.
This State, even after a complete defeat, will remain our creature, an adversary seeking revenge, as we have in the case of today's France in the West. This would create for the future a situation of constant tension, which we will be forced to assume, if Russia decides to attack us or Austria. But I am not ready to accept this responsibility, and to be the initiator of creating this situation by ourselves.
We already have a failed example of the "destruction" of a nation by three strong opponents - a much weaker Poland. This destruction has failed for as many 100 years.
The vitality of the Russian nation will be no less. "
It is important to note that this letter is usually given in a strongly abbreviated, if not reworked form, with important points being missed. One of them is the recognition of the indestructibility of the Polish nation, even if it is the weakest relative to the Russian nation. This is the opinion of Bismarck and we need to consider.
By the way, from this short mention it is clear that Bismarck considered it unpromising policy to try to keep the Poles separated, and therefore he considered neighborhood in the future with restored Poland to be normal.
The ideological legacy of Bismarck is great, but he was not lucky with his heirs. His political opponents, who came to power in Germany, did not protect the country from war on two fronts, which led to the defeat in the WWI, and a quarter of a century later, Hitler deliberately put the German people in this mortally dangerous situation.
Hitler proclaimed himself the successor of Bismarck's case, but behind his outward gestures of respect there was a completely different policy - "drang nah Osten", that is, seizures in Eastern Europe, certainly not among the ideological baggage of Bismarck. How, by the way, and the "Anti-Comintern Pact".
The real Bismarck, himself being a consistent opponent of socialism (it is easy to find the corresponding statements), carried out — the first in European history — socialist transformations in the economy. His social insurance for workers was a much more severe blow to the socialist movement than any shooting at the barricades and mass executions practiced in other European countries.
Bismarck created a state, satisfied with his position and able to protect himself; but his heirs, mainly through their own fault, led Germany to the situation of the still occupied country. If you look at the European map of the year 1913 and modern - the difference in the outlines of Germany can not fail to amaze.
It is necessary to think over all this well now, when the world and European configurations are noticeably shaken. America still has overwhelming military power, but it can no longer project it into Europe without the participation of Germany, Poland and Romania. So what do the people of these countries want? Do they, through the stages of the new cold war, want to take part in the war hot to ... what? What was the trade association of Ukraine and the EU? It is clear that the West is drawing them into a war with Russia not for association, but to defeat Russia. But ... did Bismarck explain everything?
European societies have their own problems. I will quote one of the posts from the European forum:
"Please do not confuse Western and Southern Europe with the" West. " The "West" is the United States and the United Kingdom, and their poodles. And secondly, do not confuse what European politicians do or say with what Europeans and ordinary Europeans think.
At the moment, our main concern in Europe is unemployment, immigration, especially from outside Europe, and Islamization. We want none of this to happen. But we have to leave the EU to take on these issues.
And we, of course, do not want to be associated with the Ukrainian fascists. "
This is, in my opinion, the main thing. We have no complaints about Germany, Germany has us. We do not pose a threat to the Germans, even if they wanted to - Germany will be able to fully protect itself. Our economies complement each other (this is not very flattering for us, but this is a fact).
Now Germany has a rare historical chance - to choose the path of Napoleon and Hitler - or the path of Bismarck.