In an interview with the Azerbaijani office of Radio Liberty http://www.radioazadlyg.org/, the American ambassador with a poetic surname, Morningstar, stated that Azerbaijan is not insured against its own Maidan. The diplomat said that Washington is closely following the actions of official Baku, especially arrests and other kinds of harassment of Azerbaijani political activists and human rights activists.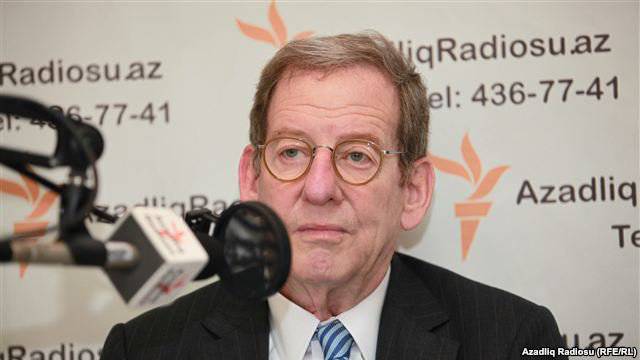 Richard Morningstar:
Azerbaijani authorities sometimes make completely incomprehensible US decisions ... in particular, they torture their citizens.
The US ambassador to Azerbaijan is confident that if the government of the Transcaucasian republic does not change its domestic policy, then Azerbaijan can expect events that led to a change of power in Ukraine. At the same time, Morningstar said that the Ukrainian scenario in Azerbaijan can manifest itself no later than 5-10 years.
In fact, the American diplomatic envoy unambiguously makes it clear that the Ukrainian scenario has been played out by Washington, and threatens the implementation of the same scenario to official Baku. Such statements by the US ambassador caused outrage in Azerbaijan.
The press service of the Ministry of Foreign Affairs of Azerbaijan stated that the main purpose of the diplomats' work is to strengthen mutual understanding and friendship between countries, and all attempts to interfere in the internal affairs of the state are a contradiction of the diplomatic code and the spirit of the Vienna Convention.
Apparently, the Azerbaijani Foreign Ministry is not aware of the fact that the essence of American diplomacy lies in unceremonious interference in the internal affairs of any state that interests the United States. And this intervention manifests itself even more actively in the event that the state has gas or oil.