The Chief Investigation Department of the Ministry of Internal Affairs of Ukraine named their versions of the causes of the Odessa tragedy that happened on 2 in May of 2014. At the same time, the head of the Main Directorate of the Ministry of Internal Affairs Vitaly Sakal calls one of all the versions: provocation of some radical forces. Reports about it
Interfax
.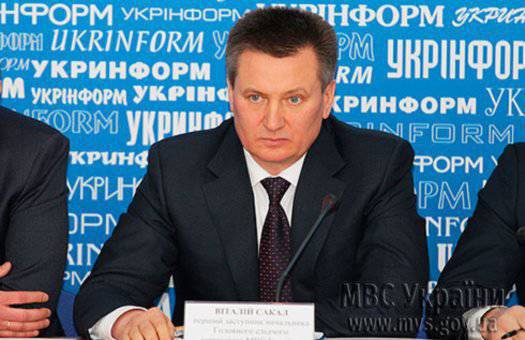 All in all, Sakal has an 4 version of what happened in Odessa: the illegal activities of the Odessa authorities aimed at discrediting the Kiev "authorities", ordering unknown persons of the SSU MIA extremist groups trying to further undermine the situation in Ukraine, the uncontrollable actions of the Ultras and the pro-Russian activists and mentioned higher provocation radicals.
The work of investigators at the site of the tragedy led to the discovery of traces of chloroform in the Trade Unions House in Odessa. The same Vitaly Sakal states that it was precisely because of repeated inhalation of the vapors of this substance that dozens of people died, trapped in a terrible trap. At the same time, the State Administration of the Ministry of Internal Affairs of Ukraine states that the substance was in the building for a long time. This statement provides a reason to judge the attempts undertaken by the authorities of Ukraine to shield the real perpetrators of the terrible tragedy, as a result of which, according to the most modest estimates, 54 people died. After all, Sakal does not say anything about how people who were trying to get out of the burning high-rise building were shot from the street, and those who were going outside were just beaten down with their feet and sticks.
Such a variant of explaining the reasons for the tragedy by the head of the Main Directorate of the Ministry of Internal Affairs of Ukraine caused outrage in the Russian Foreign Ministry. Sergey Lavrov quotes
RT
:
We are outraged by what happened in Odessa, and outraged by the attitude of the Ukrainian authorities to this. Outraged by attempts to lie about the causes of the incident, attempts to hide the truth. We want all the facts that are now floating, countless of them, to be investigated. Including the message that on the eve of this tragedy about a thousand militants arrived in Odessa, on suspicion of mercenaries from other countries who were paid for by famous characters, which are also mentioned in these messages. We want all this to be thoroughly investigated, as well as the evidence that people died not at all from carbon monoxide, but from a toxic chemical, died from gunshot wounds, finished off when they were able to get out of the burning building. . We will strive to ensure that the investigation is objective and impartial, for this it must be international. I have sent letters to the UN Secretary General and the OSCE Secretary General.
According to medical workers who received victims from the 2 House of Trade Unions in May, people could get severely poisoned with chlorine fumes distributed indoors. Chlorine could penetrate the respiratory tract of people, initially causing cessation of breathing, then its short-term recovery in a convulsive variant, followed by loss of consciousness. According to another version, one of the modifications of phosphorus killed people. Many were brought to hospitals with gunshot wounds, with severe head injuries.