Punitive operation: from mortars to residential buildings
After the next mortar shelling of the surroundings of Slavyansk by the Ukrainian punitive detachments the residential building was seriously damaged. One of the explosions thundered just 15 meters from the building. As a result of the shelling, the gas pipeline was severely damaged, causing a fire. It reports
ITAR-TASS
.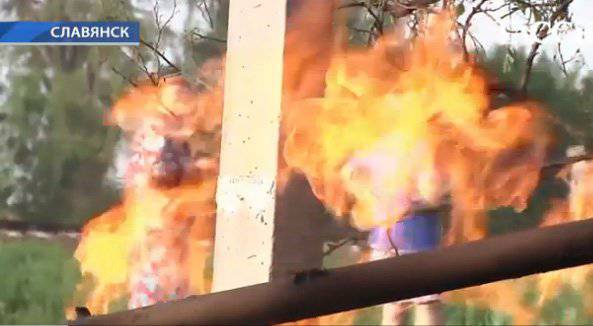 In a house located in the Mashchermet district of the city of Slavyansk, in addition to damaging the gas pipeline, glass was broken, power lines were seriously damaged - people were left without electricity. Local emergency services are attempting to eliminate the fire and restore power supply in the area subjected to fire from the Ukrainian troops.
In the meantime, according to the tradition that has developed over the past few weeks, the Ukrainian media came out with materials that they were allegedly residents of Slavyansk, called "separatists" by Kiev, themselves opened mortar fire, but "without experience of using mortars", they landed in their own positions, hitting and House. Such misinformation is completely in the general context of the Ukrainian statements, according to which, on May 2 in Odessa, peaceful demonstrators set fire to and fired at themselves in the House of Trade Unions.
Meanwhile, residents of Slavyansk declare that mortar shelling began this night from Mount Karachun. This height is under the control of Ukrainian punitive detachments.