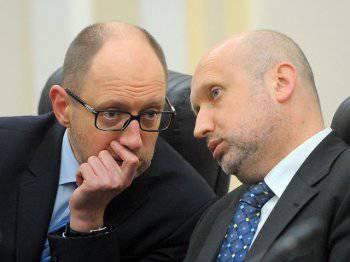 According to the information agency
"Vesti"
Acting President of Ukraine Oleksandr Turchynov said that the country would be able to cope with possible difficulties in the event of a cessation of gas supplies from Russia. He also noted that international rules prohibit the cancellation of the delivery of goods unilaterally, so you can get an appeal at an international tribunal. According to the head of the Verkhovna Rada, Kiev turned to arbitration in order to "stop the format when Russia unilaterally reviews prices", increasing them.
The representative of Gazprom, Sergei Kupriyanov, expressed doubts that Kiev would continue to stick to the contract for the transit of gas to Europe in the event of introducing an advance payment for "blue fuel".
The portal Gas Inrfastructure Europe notes that at present Naftogaz of Ukraine is sending all gas imported from the Russian Federation to underground storage facilities. During the period from 10 to 16, 98.9% (770.8 million cubic meters) of all imported fuel was uploaded. Large gas consumers, including Stirol and Severodonetsk Azot, are stopped, the heating season is over, and the country has enough of its own production.