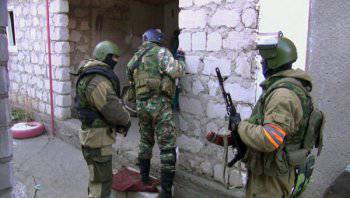 According to RIA
"News"
With reference to the National Anti-Terrorism Committee (NAC), in the Baksan district of Kabardino-Balkaria, a special operation was held to eliminate the militant group, which was preparing to conduct a series of attacks on representatives of the security forces and government bodies.
"As a result of the active phase of the special operation, three criminals were neutralized, including the leader of the gang who was on the federal wanted list," reports the NAC.
According to the NAC, militants participated in the killings of law enforcement officers and civilians last year. During the survey of the house in which the bandits were located, two machine guns, a grenade, a pistol, ammunition, as well as a homemade bomb, whose power was 3 kilogram in TNT equivalent, were found.