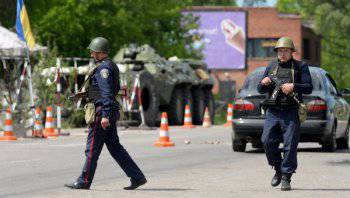 According to RIA
"News"
, a press secretary of the "people's mayor" of Slavyansk, Stella Khorosheva, said that the National Guard fighters had shot ten co-workers who wanted to go over to the side of the Donetsk People's Republic.
According to one of the representatives of the self-defense staff, the shooting was carried out directly on the territory of the military unit. "They put the guys against the wall right on the territory of the unit and opened fire on them," he said, adding that now "their bodies are being buried on the outskirts of Kramatorsk".
However, as the news agency notes
"Vesti"
, representatives of the National Guard refute this information. "This, of course, is not true. No one shot anyone, "said the spokesman for the unit of the Ministry of Internal Affairs of Ukraine.
Also, the National Guard spokeswoman Victoria Kushnir confirmed the report that ten fighters of the National Guard - natives of the Donetsk and Lugansk regions - sided with the Donetsk People's Republic. According to her, at the moment the whereabouts of these people is unknown. Kushnir noted that criminal cases were initiated against them on the fact of non-compliance with the statute, all of them will be brought to justice.
INTERFAX.RU
notes that on May 16, due to the transfer of contractors to the side of the Donetsk People's Republic, the command of the Eastern Operational-Territorial Association of the National Guard had to redeploy personnel with equipment and
weapons
.