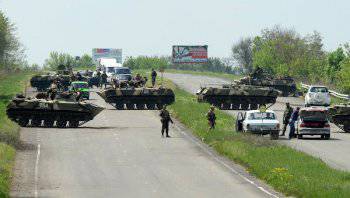 According to the
"RT in Russian"
, 18 May in the outskirts of Kramatorsk fierce battles between the city militia and the Ukrainian security forces took place. Six armored personnel carriers attempted to capture the city center from Yasnogorka.
"Each combat vehicle has about 10 fighters in black unmarked uniforms, as well as several security officers in camouflage," said a self-defense staff spokesman. Supposedly, fighters from the National Guard and radicals from the Right Sector participated in the attack.
According to one of the militias, they did not allow armored vehicles to the center of the city, having beaten off the attack of the security forces. "I was in this fight, it had already ended about 45 minutes ago. We did not let them into the city center, "he said.
Also,
newsru.com
notes that the Ukrainian military conduct constant shelling of Slavyansk and Kramatorsk from Karachun mountain.
"Bomb Slavyansk artillery from Karachun, already Yasnogorku (town between the mountain and Kramatorsk) hooked, that is, it is almost Kramatorsk," - said the representative of the militia.
Local residents reported that the city was left without water due to damage to the aqueduct. Also, the deputy mayor of Kramatorsk, Andrei Bessony, reported that at the entrance to Kramatorsk from Slavyansk one of the shells damaged the low-pressure gas pipeline that feeds the village of Yasnogorku.
"Fortunately, the explosion did not happen, but a very large number of citizens were left without gas supply," he added.
In addition, clashes began in the morning in the area between Kramatorsk and Slavyansk. Information has appeared that at the airport of Kramatorsk, in addition to 300, the military personnel of the Ukrainian army are still approximately 70 soldiers of unknown units.