Secrets and secrets of the propaganda machine of Vladimir Putin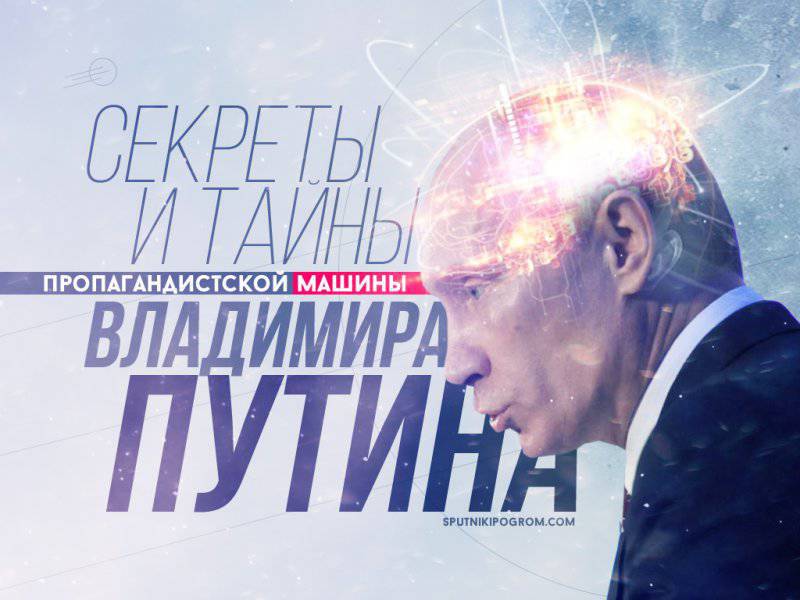 What pisses me off: you open Foreign Policy and read about clever Putin, leading a non-linear asymmetric war against Ukraine through many diverse groups attacking the most different parts of Ukrainian society (not only
weapons
, but also with meanings). "Great Putin defeated NATO, which is still thinking about the Cold War schemes, and waging a flexible network warfare with advanced human warfare concepts that even US military intelligence could not master." You read - and it takes your breath away from the fact that we thought that only
tanks
we can rattle, and here we have clandestine intellectual centers, advanced social technologies and information wars with the latest information technologies. The war of tomorrow today.
Then you open forums with Strelkov's former colleagues and you see that they don't get help at all at least at the level of supplying Russian volunteers to the border, all exclusively by gravity, "on an honest word and on one wing". Aguirre, the wrath of God, relying only on himself and his small detachment, dissolving in the Amazon jungle with the WWII illuminating rockets dug up in local warehouses. "Grandfathers fought - and grandchildren will come down."
You look at the forums of supporters of Kurginyan, an ardent fighter against Bandera, into which, in theory, should pour millions to build an aggressively obedient base of supporters: they go there for their money to go. And they are also obliged to voluntarily-compulsory sign on a party newspaper acquaintances, and otherwise out of the movement. For 300, it seems, rubles per year. Some even bought the notorious black-red jackets for their money, in which they marched from the Kremlin. Is this the behavior of the Kremlin money? Is this behavior moving even with some kind of centralized financing? Or are they hopeless romantics who are allowed to stand at the Kremlin wall, and then they are included in the estimate "Organization of uniforms for 10 000 participants: spi-billion rubles. Transportation of participants: two spizdilliarda rubles. Total: a lot of rubles pizzydilardov, please increase funding by 50% ".
Or Kholmogorov, the most prominent supporter of Novorossia, riveting dozens of texts day and night, replacing the whole publication, clearly categorized as "a weapon in the information war," does he think it eats caviar? He is in his Facebook donat for further work collects. And on my Facebook account, I'm talking about the advantages of buying a cheap Renault Logan, staunchly enduring the ridicule of successful traders and advertisers who don't even work like a tenth. "And what, too, the car!" Then, sitting down in this crumbling "Renault Logan", returns home to disassemble the next Ukrainian fakie, reprinted in the blue eye by highly-paid nerds from the state. And the poor shooters, who even in Estonia would have a dedicated news desk on 5, have at least a few journalists, post their latest news on ... the reenactors forum. And from there they crawl around the world.
Everything is Soviet-style, on the knee, of scraps, of some passages tied to the feet of plastic bottles, rewound with insulating tape. "From the lids and the plastic bag, you can make a nice ceiling for the kitchen." At the same time, there is money: I was told by people associated with AP that they had seen solid estimates for Sputnik and Pogrom. Prosvirnin and the entire editorial bubble just bathe. Now just wait, Prosvirnin goes to the kitchen, takes a whisk, removes pieces of concrete with rusty fittings falling from the balcony falling apart from above and continues to write. Glamor Khrushchev editor-in-chief of the country's main political blog is glamorous falling apart. And so all is well. They did not kill, did not plant, did not send out of the country - and thanks for that.
And it would be okay if all this was in peacetime, I personally don't need a single penny from the Kremlin, steal on me, at least thirsty, three feet, parasites, even eat yourself. I have never received a penny from the state and am not going to receive it. But the worst international crisis since the Yugoslav war, the world on the verge of collapse, one successful fight, one decisive offensive, one batch of volunteers can solve the fate of a whole country - and this Kremlin fagot loads stolen oranges with stolen barrels while poor Kholmogorov tries to start rusty Logan "to go further to repel the attacks of the Ukrainian media machine. "Why failure on the information front? - Kholmogorov on the Ring Road stalled! - Urgent! We lose control of the mainstream narrative! Need emergency deconstruction! "Now, hold on, he has already found some peasants, is about to go!"
It was from the time of "Ours", where three times more money was allocated to one head of the young than was actually spent, but now it has acquired quite grotesque forms, when there is a "nonlinear war" in the Foreign Policy, but in reality, Babay has often nothing bandage even a wounded comrade, because only volunteers carry medicines for their money. "Ah, the militiamen are taking hostages!" - so it's good, but they don't take those hostages, we must take the Kremlin. Zop by the scruff of the neck and - "We demand as a ransom all that you have stolen from us, bastards. What does it mean - need a dump truck? "
Stateliness! Spirituality! New Eurasian Empire! Turn back the clock! Challenge the European Union! Conservative renaissance! And the sawing budgets of the assholes did not even bother to make a press center to Strelkov and organize a regular cross-border route for the delivery of volunteers. "Ah, Putin's favorite philosopher - the mystical conservative thinker Dugin" - did you see this Dugin, American analysts? He goes on rags. It is good if the "beloved philosopher of the new Eurasian emperor" is given a new coat for winter. Or Olshansky, the squeaky posts about Ukraine, from which the Ukrainians simply bother, the brightest, the worst posts - sits in a sweater in holes, breaks from bread to water. I'm not even talking about Prokhanov's "Nightingale of the General Staff", whom any editor of any Western newspaper, quoting his passages about "I have been working on for a long time with the new Cold War," will simply laugh at the greasy jacket. This jacket still remembers the introduction of troops into Afghanistan. The Soviet power was gone, and the jacket remained. A good jacket, strong, tanks fall apart before.
I'm not talking about the "leaders of the Russian movement in Ukraine," the deadly and dangerous agents of the New Eurasian Empire, in a series of effective operations that disintegrated Ukrainian society from the inside. Here it is enough to look at one Gubarev: a man worked for Santa Claus at matinees for money. LITERALLY. Here it is, a key element of the underground network of pro-Putin influence agents who struck at the only right moment. With a beard of cotton wool. And most importantly, what a disguise, how cleverly the schoolchildren read the rhymes ... And I am completely silent about Russia Today, buying videos from a local enthusiast correspondent for pennies and giving him away for exclusive shooting of an entire reporter team costing $ 25 billion a day. Or about Steshina and Kotz in scorched sweaters with scorched faces, with a couple of easily plugging all Western media. "The Kremlin paid!" - the Kremlin will give you money, will you go to the BMD armor for this money? In general, you will spend a month on the front line under shelling?
And they sat out. And, most likely, for the standard journalistic fee, over which the typical Moscow secular nits from the publication about secular nits for secular nits also laugh. "Ugh, poverty." Because of the secular nits, it is clear what the benefits are: they are secular and they are nit, and what are the benefits of Steshyn and Kots giving
news
right from the front? Who is this news? Why this news? Say thank you, that generally publish, and could hit an umbrella.
Because there is no New Eurasian Imperial Machine with cunning non-linear strategies. There is a thieving muddie who has made a mad conflict, which she herself has ceased to understand, and which the mudachy, apparently, simply threw herself into horror. "Let it resolve there somehow by itself." And there are we, ordinary Russian people, who have not only personal wealth, but also any adequate resources, trying with a wrench and such a mother to straighten the conflict in our direction, while some Great Empire volunteers cross the border on their own the risk with a homemade compass, other volunteers of the Great Empire equip antiquarian lighting rockets and PCA for combat, and the third volunteers of the Great Empire scream into megaphones made from the newspaper "Ukr, give up! Our will is adamant, our forces are innumerable, and you ... cannot see them, because they are in the newest invisible camouflage! On your knees before Strelkov, nit, and then ... yes, here are the details for the transfer, even 50 rubles will help ... but you will recognize the whole rage of 120 of a million people with a huge army and innumerable resources! "
And then we open the Western press bought for last money and read about the clever four-dimensional network-centric builder of Putin's empires, his well-equipped Cossack commandos and their support group leading an active ideological offensive with the help of a secret weapon "if you like this text, translate the money editions" .
I hate it here.
But you know what? We do not fight for the Empire.
We are the Empire.
An empire that you still can't finish off, red-brick thieves.