Igor Strelkov: enemy losses amounted to 100 man and 10 units of equipment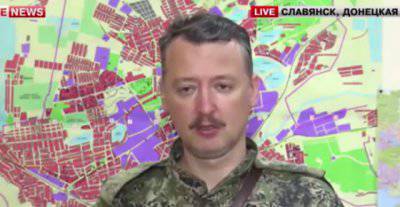 So, today's summary (18 May 2014).
Early this morning, an enemy checkpoint in the area of ​​the settlement was simultaneously attacked from both sides. Robin. At the same time he was fired from a mortar and several grenade launchers at close range. The 2 BTR was burned on the spot, the roadblock was completely broken, the enemy suffered heavy casualties. Our casualties are 1 injured.
In the area of ​​noon, a grove near the Slavyansk-Kramatorsk road was shelled with mortar shells, where the consolidated units of the National Guard, 25 and 95 airborne brigades and a nearby checkpoint are located. In the grove - three fires, in the binoculars it was perfectly visible, as in a panic many soldiers scatter (small grove - 400 on 50 meters). Released 60 min 82-mm along the grove, 10 shells "Nona" at the checkpoint. Another 6 shells were sent to artillery positions on the reverse slope of the city of Karachun.
Later, helicopters landed on Karachun and at the blockhouse — they took the wounded away.
In the late afternoon, our intelligence unit received information about the enemy's location in the settlement. Seleznevka (outskirts of the city, 2 km north of Semenovka). The reconnaissance group secretly entered the village and destroyed the 6 "national guardsmen" (black uniform, "painted with" slogans and emblems of the "right sector" helmets) in a fleeting fight, and a dozen more were wounded. KAMAZ burned.
In total, according to radio interception, today the enemy's casualties killed and wounded exceeded 100 people, 3 BTR, radio station based on GAZ-66, 2 trucks were destroyed.
According to the population, the killed enemy is now thrust into plastic boxes from under the rifle
weapons
and takes out to Raisin, where all the morgues are already clogged with corpses - the refrigerators are overcrowded.
With the onset of darkness, the enemy conducts a disturbing fire on our positions with howitzers and mortars.
Just reported - our intelligence unit attacked the BZS checkpoint. Shot from the "Flies" destroyed 1 BMP. Several national guardsmen killed and wounded.
The enemy is hammering the roadblock from where we came out, from the howitzers ... But there is no one there. "
PS about the big losses of the enemy:
"In a grove of people it was full, like a herring in a barrel. And got very well and heap. It was the same in Malinovka - everything was very tight.