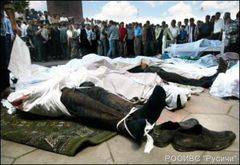 What I said years ago seems to begin. Unfortunately.
In Uzbekistan moved.
18 of May in Tashkent 10 of thousands of citizens took to the streets, in Andijan and Fergana - over 15 of thousands.
In Tashkent, people were not shot at, and even some representatives of the protesters were taken into the government.
Who are the people who came to the government and what they demanded - is still unknown.
In Andijan and Fergana people were shot at. The exact number of victims is found out.
Not so long ago, in the US Congress, there were hearings on Central Asia, where specific hints were made of the "Arabic script."
23 May in Berlin will be the Uzbeks Congress. External signals received. Internal pressure and so colossal. Everything is ready for the explosion.
And what about Russia?
Does she have a position? Who does she put on? Again on the current government? Do we have a script, or will we curse the Americans again?
But the refugees, unlike Libya, will run to us, and not sail on boats to Europe.