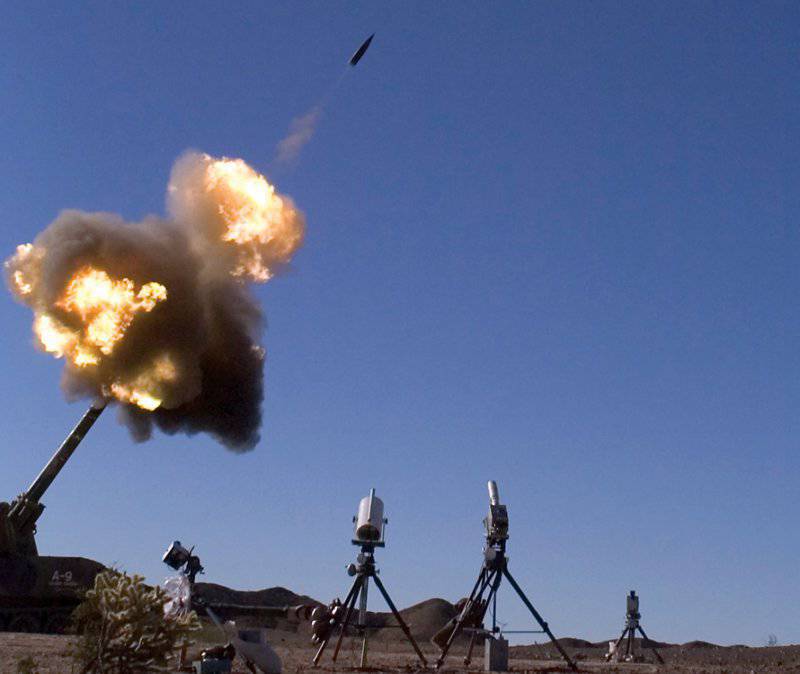 More 600 EXCALIBUR shells are shot on TVD to date. This high-precision projectile is designed for artillery of the American Army and Marine Corps. Using high-precision GPS guidance, EXCALIBUR provides an accurate hit from the first shot in an urban setting.
Affordable long-range and high-precision guidance is a very popular topic, industry and government have been very active in this area over the past few years.
BAE Systems, Oto Melara and Raytheon have successfully tested similar systems. In October, 2013, BAE announced the success of its Long Range Range Attack Projectiles (LRLAP) series of its 155-mm projectile at the White Sands range. A few months earlier, Raytheon had tested the EXCALIBUR projectile from the 155-mm self-propelled Denel G6 self-propelled artillery complex, and then recorded the successful combat use of this munition "in theater". Meanwhile, Oto Melara and Diehl Defense successfully tested their VULCANO ammunition at the German Meppen test range.
PERM development program
ATK manufactures a full range of large caliber
tank
ammunition for the US military and their allies. 105mm ammunition is fully compatible with all NATO 105mm cannons (M68 / L7), for example, with the STRYKER mobile artillery cannon. The advanced design of the 105 mm ammunition offers unique opportunities for military operations in urban areas. The M1040 Canister projectile, which entered service with the STRYKER brigade, provides the crews of these newly deployed combat vehicles with new capabilities.
ATK's 105-mm HEAT-MP-T, the universal cumulative anti-tank projectile with tracer, is the 105-mm version of the M830A1 HEAT-MP-T projectile. It is intended to replace the HEAT 105-mm projectile.
Projectile M1002 MPAT-TP-T from the company ATK. Universal anti-tank ammunition with a tracer for practical purposes, it is one of the eight shells in the 120-mm line-up of conventional ATK tank ammunition, which are among the most advanced ammunition in the world. All projectiles are fully compatible with 120-mm smoothbore armament for the M1A1 MBT, M1A2 ABRAMS MBT and the L44 and L55 OBT LEOPARD 2 smoothbore guns.
In December, ATK announced that it had begun fulfilling a contract worth 14,3 million dollars issued to develop a solution in order to fulfill the requirements of the Marine Corps on a rifled 120-mm high-precision PERM (Precision Extended Range Mortar) mortar round. The ATK's weapons systems unit will be the main contractor for the PERM 24-month development program, which will demonstrate a high-precision mortar shell capable of delivering accuracy within 20's circular deviation (CVT) meters, and which can be quickly delivered to production and eventually to the troops.
ATK has teamed up with General Dynamics Ordnance and Tactical Systems (GDOTS) to bring the most "mature" features to the program.
"This best-in-class partnership will provide the most reliable and affordable way to the Marine Corps target — deploying a high-precision mortar shot," said Bruce Dewitt, vice president of the weapons systems division at ATK. "Using mature proven technologies significantly reduces time." development, which we proved by applying our technology precision guidance kit (Precision Guidance Kit). In one year, a high-precision mortar shell was developed and fully qualified in order to fulfill the accelerated initiative of the American army in a high-precision mortar shot. "
Mortar shooting shoots 81-mm mines at Taliban positions in support of a patrol at the forward base of Zeebrugge near Kayaki
Conducted test firing LRLAP
During tests at the White Sands test site, the completion of which BAE Systems announced on October 22, many LRLAP shells were fired, and the declared characteristics of the rocket engine and the warhead were confirmed. The company BAE Systems reported that the tests demonstrated the capabilities of guns and GPS / INS-driven projectiles with a jet engine to provide high-precision long-range fire and achieve the desired impact on reliability and affordability. According to reports, the characteristics of the shells met or exceeded all test requirements.
"This is an important step forward for the US Navy's 155-mm LRLAP program," said Steven Schultz, the company's vice president. "BAE Systems continues to improve on the path to the qualification process, ensuring the deployment of the Advanced Gun System (AGS) advanced gun mount on board the DDG 1000 missile destroyer."
Each AGS is capable of producing up to 10 LRLAP shells per minute, the feed is from an automatic ammunition storage and processing system, in which up to 600 shells are placed in two stores. According to AGS requirements, it must also be able to fire six projectiles on one target in two seconds in MRSI mode (Multiple Round Simultaneous Impact - simultaneous impact of several projectiles; the angle of the barrel changes and all projectiles fired at a certain time interval arrive at the target simultaneously).
The successful completion of this series of tests paved the way for a critical analysis of the LRLAP project, which was held in December 2013.
LRLAP is a fairly large ammunition (weight 104,3 kg and length 2,2 meter) with excellent capabilities for accurate delivery of firing power over long distances. In this regard, the US Navy are going to shoot them with the next-generation destroyers DDG 1000 in order to support the expeditionary forces operating in coastal urban areas and deep in the territory to 74 nautical miles. The purpose of the LRLAP is to obtain an affordable alternative to existing missiles launched from a ship, mainly to combat ground targets, and secondarily to combat surface targets.
New 155-mm "super-explosive" artillery shell Super - High-Explosive (S-HE)
Israel Military Industries (IMI) supplies military forces around the world with explosives, large, medium and small caliber ammunition, both guided and unguided. IMI's Ammunition Unit offers a number of tank-tested ammunition tested, providing a full line of Western and Eastern calibers - 100, 105, 120 and 125 mm, including anti-Tank Finned Discarding Sabot Tracer armor-piercing finder (APFSDS). anti-tank High Explosive Anti-Tank (HEAT) and a number of universal high-explosive shells, optimized for operations in urban environments, the destruction of fortifications, unprotected area targets, light armored vehicles and the destruction of personnel but. IMI, in addition, offers a variety of ammunition for NATO 120-mm smooth-bore guns, which are the optimal solution for the needs of the armored corps. IMI complex solutions include highly effective M322 armor-piercing projectiles, universal cumulative anti-tank M-325, universal anti-personnel / projectiles for material damage, as well as various ballistic-identical practical shots, sub-caliber training devices and a stunning non-lethal shot.
The new 155-mm Super-High Explosive (S-HE) artillery shell, designated M454, has recently been introduced as a unique solution based on a prefragmented warhead with a drag parachute, which increases its efficiency by five times compared to standard high-explosive shells.
Large gauge cooperation
The successful firing of the guided Oto Melara 155-mm VULCANO artillery projectile with GPS / semi-active laser guidance system from the PzH 2000 self-propelled howitzer at the Meppen training ground in Germany was the result of the growing mutually beneficial cooperation between the Italian manufacturer and the German Diehl Defence. The two companies strengthened their ties to the Eurosatory 2012, signing an agreement on a strategic alliance aimed at traditional and guided, large-caliber ammunition for sea and land forces.
Even before making a new deal, they had already worked together on various national programs, including German 120-mm guided mortar shells and 155-mm guided artillery ammunition and Italian Guided Long Range and Ballistic Extended Range ammunition . The latter program provides for the development of 155-mm "land" and 127-mm shipboard variants of the VULCANO projectile.
On these two shells are working together to promote them to local and foreign markets. The 155-mm version is designed for the Italian and German PzH 2000 self-propelled howitzers and for "all other 155-mm field artillery cannons," while the 127-mm version is aimed at the Oto Melara 127 / 64 light weapons, as well as the naval guns of this company . The VULCANO experimental system is a family of sub-caliber projectiles, which includes a ballistic version of the Extended Range (ER) and a controlled version of the Long Range (LR) for 155-mm howitzers with barrels of 52 and 39 calibers. The unmanaged version has a multifunctional programmable remote fuse. The guided version has a GPS receiver and an inertial measurement unit, and can be improved by integrating the aforementioned homing head on a semi-active laser. The VULCANO projectile is based on a new package with tail stabilizers and front steering wheels.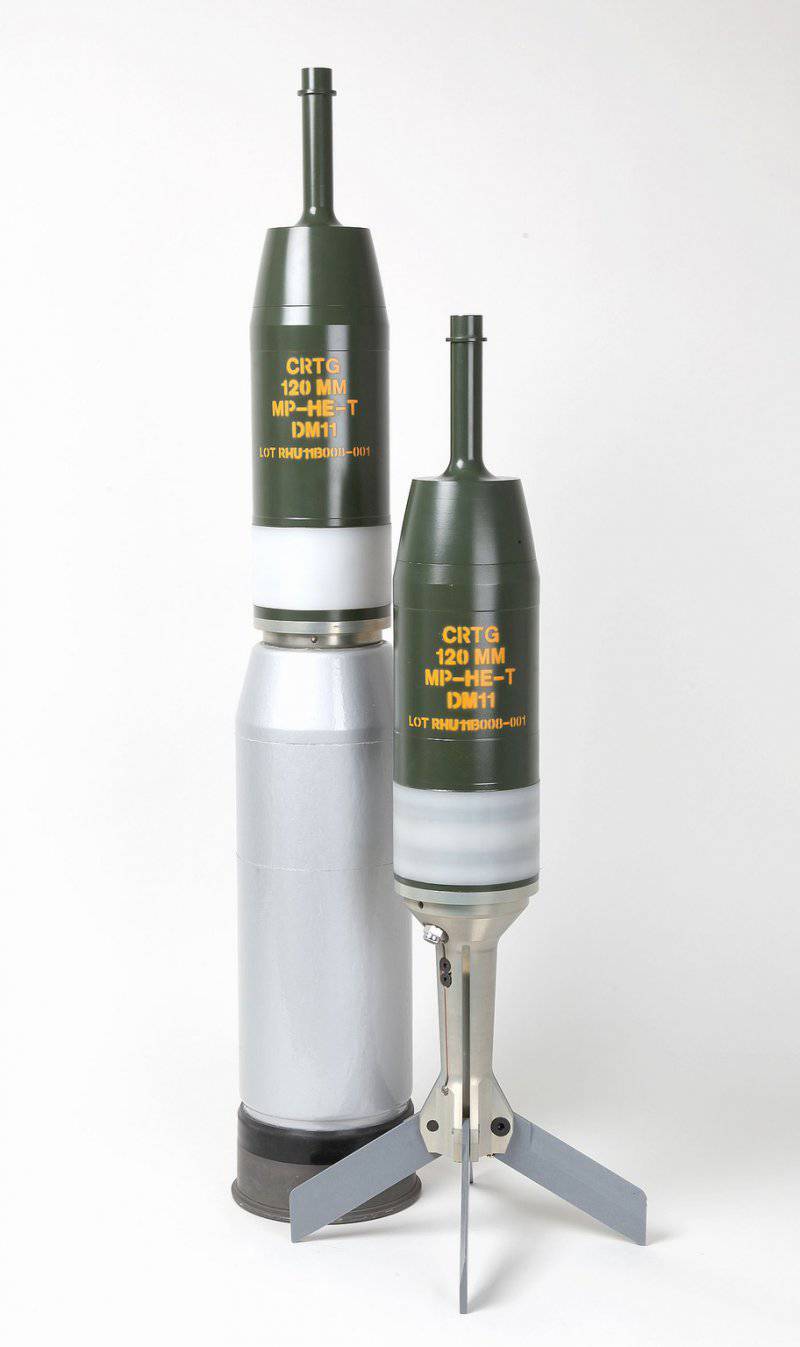 The new high-explosive DMHNUMX projectile from Rheinmetall can be fired from any smooth-bore 11-mm gun (L120 and L44)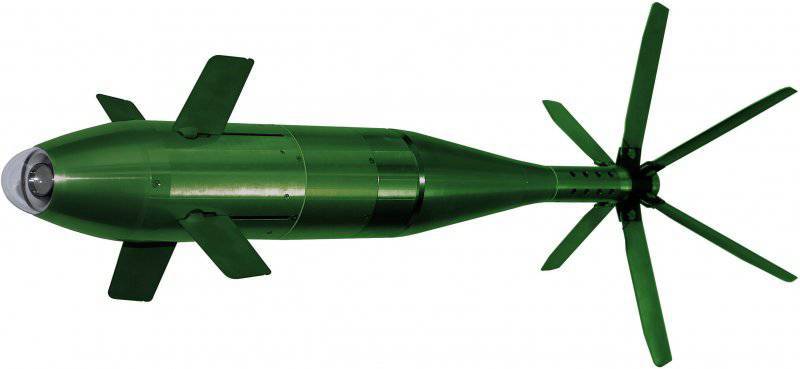 120 / 121 mm FIREBALL mortar shot with dual high-precision guidance mode: GPS and laser. FIREBALL, created by Israel Aerospace Industry (IAI), is designed to hit from the first shot and can be shot from rifled or smooth barrels
Howitzer G6 owns EXCALIBUR
Raytheon announced in May 2013 of the year that the Raytheon EXCALIBUR GPS-deployed 2007-mm GPS projectile deployed by the US Army expanded its capabilities after conducting a Denel G155 howitzer series in the beginning of the year. The South African howitzer fired several EXCALIBUR shells at a distance of 6 km and they all fell within 38 radius from the target.
"These tests have shown that EXCALIBUR can give real precision to the G6 howitzers, which will help improve the fighter's defensive capabilities," said Kevin Mattiz, EXCALIBUR program manager at Raytheon Missile Systems. "EXCALIBUR enhances tactical capabilities by providing accuracy that is absolutely essential for close combat."
The results of these tests are supported by the growing experience of the US military in the combat use of the Excalibur projectile, which was demonstrated by shooting two projectiles at a range of 36 km. Raytheon announced in June that it was the longest distance that the shell had fired, shot out in battle since its deployment, with more than 500 shots fired at the theater today.
"It's incredible how his capabilities have grown in all time and these shots are evidence of that," said Col. Mike Milner, project manager for EXCALIBUR in the US Army. "We are constantly improving the use of EXCAUBUR in theaters."
KEW Ammunition Family Collaboration
Collaboration between leading players in the industry is a distinctive feature of the modern ammunition industry. 19 On April 2012, the company Rheinmetall Defense and GDOTS announced that they had created a joint venture for tank ammunition called Defense Munitions International (DMI). DMI was created to develop and promote new and existing armor-piercing and universal 120-mm projectiles on the US and international markets for tank ammunition.
"The new joint venture is a transatlantic expansion of our chosen policy of internationalization," said Rheinmetall CEO Armin Papperger. "Thanks to DMI, we will be able to better respond to the wishes of the global customer base in order to improve our portfolio in the future, as well as provide an expanded range of services." The two companies previously collaborated on 120-mm ammunition projects, including KEW-A1 and KEW-A2 shots with tungsten cores. These shells provide operators of M1 ABRAMS tanks around the world with an alternative to depleted uranium shells. The Bundeswehr and other LEOPARD tank operators from NATO countries recently launched an equivalent DM 63 projectile. The joint statement said that DMI will continue to carry out these works, while working on further improvement of the KEW family.
GDOTS President Michael Wilson touched on some of them. "As part of DMI, we will continue to develop our success in the segment of our current customers, and at the same time we are expanding our offerings, including the versatile shot of the Rheinmetall DM 11 recently received by the marines, which adds powerful new capabilities to the fighter's arsenal."
Despite the withdrawal of international forces from Afghanistan in 2014, the US army continues to buy large-caliber ammunition for tanks and artillery, issuing three contracts totaling 2012 million dollars to 97 in June.
One of the practical 120-mm tank shells provided for in the contract is a sabot M865 with a tracer. The army and the marines fire this shot from their ABRAMS tanks in order to simulate the characteristics of a combat shot, but at shorter ranges in order to practice at smaller artillery ranges. The second projectile is a practical universal M1002 with a tracer, whose characteristics correspond to the external ballistics and flight time of a M830A1 (High Explosive Anti-Tank Multi-Purpose Tracer) universal anti-tank cumulative tracer with a shot.
Also in these contracts are included 105-mm high-explosive fragmentation projectile M1130 with a prefragmented hull, which the US army shoots from its towed howitzer M119. The newest 105-mm projectile M1130 was recently qualified and entered service in Afghanistan.
Another 155-mm artillery projectile is a high explosive M795, fired from the M777 and M192 towed howitzers and the M109A6 Paladin self-propelled howitzer. GDOTS manufactured more than 1,3 a million M795 shells, and they were widely used in combat.
Rheinmetall is also in the process of qualifying the ASSEGAI 155-mm Artillery Ammunition, developed in collaboration with the South African Denel. The ASSEGAI family, developed by the Rheinmetall Denel Munition joint venture, includes low-impact high-explosive, conventional high-explosive, smoke screens, lighting, infrared lights and other types of projectiles created in accordance with the provisions of the joint memorandum on ballistics. On the shells, you can install either tail, or bottom recess, reducing aerodynamic drag. They can destroy targets at ranges up to 40 km when firing 52 caliber guns.
VAPP - Low Accuracy
Over the decades of its existence, high-precision guided artillery and mortar ammunition remained an expensive pleasure. It is not surprising that the Laboratory of Military Studies (ARL) of the American Army is working on the VAPP program (Very Affordable Precision Projectile - a really affordable high-precision projectile), which has been in the testing stage for almost two years. In the framework of the VAPP program, the Laboratory is developing a set of technologies that could be used for all military ammunition indirect guidance. Among the requirements for new projectiles is the reduction of indirect damage in the urban environment in the vicinity of its units and civilians, for which high-precision guidance and scalable impact of the warhead are important. ARL is collaborating on this project with SIC Armaments (ARDEC).
"The VAPP program began about five years ago as work to develop accumulated experience and translate it into shells of all calibers of indirect pickup available to the army," said Dave Lyon, head of the ARL technology guidance department.
For the US Army, this means upgrading the 60-mm, 81-mm and 120-mm mortar bombs and 105-mm and 155-mm artillery ammunition. The idea is to apply VAPP technology to all of these munitions and to license intellectual property in industry.
"The trick is that we develop just a set of technologies once and the army pays for this development once and then it is applied to all calibers equally," continued Lion.
Two main factors of increasing the cost of guided munitions fired from guns are eliminated here: the first is the use of sophisticated technology, including first-class sensors originally developed for missiles that need to be modified to withstand the overload when fired from a cannon, and the second is that most intellectual property remains in private industry.
The VAPP program includes fundamental works that contribute to understanding the basic characteristics of projectiles fired from rifled guns, including structural dynamics, flight dynamics, gas dynamics and their mutual influence, as well as their importance for the Guidance, Navigation and Control strategies of Guidance, Navigation and Control (GNC). A return to fundamental ballistics allowed our group to use the basic characteristics of the projectile, rather than adjust them, Lion said. "This allowed us to develop a GNC strategy in its simplest form, and in relation to VAPP technology, this means that only one sensor is needed, not many."

VULCANO is a family of long-range 127-controlled munitions specially designed to meet the requirements of support for naval artillery. The technology is based on the 127-mm feathered projectile, capable of flying farther than its counterparts due to an increase in the initial velocity and low resistance of the sabot design; rocket engine in this projectile is not provided
Ballistic "coercion"
As well as a simple sensor system, the overall VAPP solution combines a rotating body with a uniaxial mechanism for maneuvering, which uses small moving front steering surfaces and an algorithm for ballistic guidance or, by definition, for the developers of "ballistic coercion."
This sophisticated projectile control technique is based on an understanding of the characteristics of the munition and was developed using computational fluid dynamics (CFD) equations designed for supercomputers.
"For high-precision ammunition, there is a trade-off between maneuverability and stability, and CFD was used to determine not only the size of the front rudders, but also the stabilization of the rear tail. CFD was also used to determine the stalling characteristics for the front rudders, which had not previously been included in most of our trajectory models, but was an important factor in determining the overall design parameters, "said Dr. Weinacht, head of the flight services department at the ARL laboratory.
Successful flights that hit targets confirmed these technologies and a general approach, as well as confirmed the level of technological readiness of VAPP, simplifying the transition to other American programs. For example, the U.S. Navy uses VAPP to develop guided mortar bombs under the Precision Universal Mortar Attack (PUMA) high-precision universal mortar shot program. PUMA's goal is to create one guidance kit for a variety of applications, including 81 mm and 120 mm mortar bombs, 80 mm
aviation
bombs fired from shoulder shots, etc.
Such joint multiplatform programs with their savings could be the basis for future developments of precision-guided munitions in times of economic turmoil.
International offers
Pakistan Ordnance Factories (POF) Pakistani Ammunition Plant offers HOW, 105-mm HOW HE and 122-mm HOW HE M155 projectile for artillery, as well as tank and anti-tank ammunition, 107-mm HE / TK P100XXXXXX / mm / TK ammunition, 1-mm HE / TK P1XXXXXX / mm HE / TK ammunition, and 100-mm HE / TK projectile and anti-tank ammunition, Tank and anti-tank ammunition, 100-mm HE / TK P105XXXXX / mm HE / TK ammunition mm TK HESH, 35-mm APFSDS-T, 1-mm TK HESH LXNPHEMSEURTHEURNEURRESTERRICLEMS OTHER AGRICULTURES
Poongsan, the Korean manufacturer of ammunition, supplies almost all types of ammunition currently used by the military to the local and foreign markets. Poongsan develops a wide range of ammunition, from small-caliber to large-caliber, from 5,56-mm ammunition to eight-inch rounds. Products of this company are used in anti-aircraft guns, mortars, howitzers and anti-tank guns.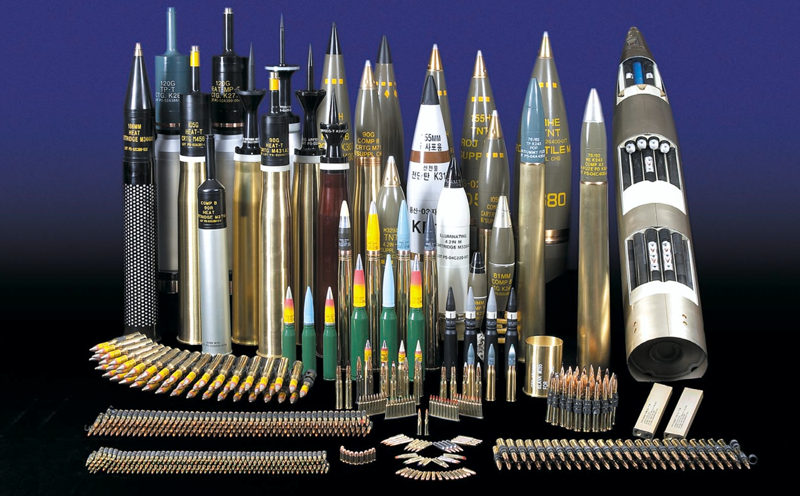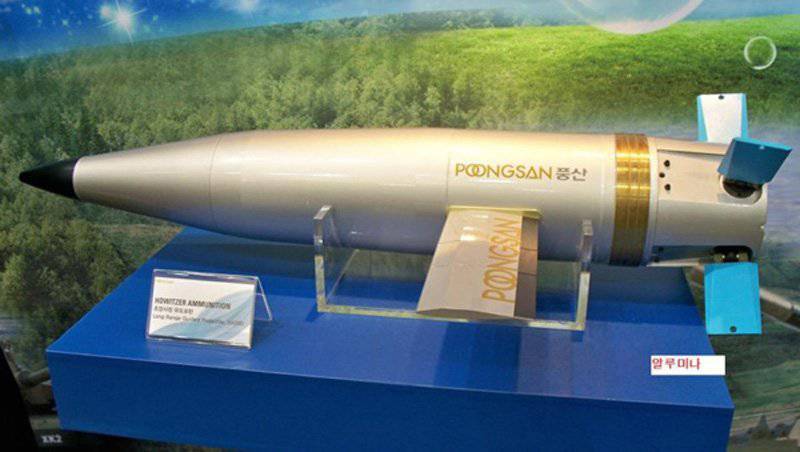 Artillery ammunition from the company Poongsan. Right experimental howitzer shell HKS00
Materials used:
Military Technology
www.baesystems.com
www.otomelara.it
www.dtic.mil