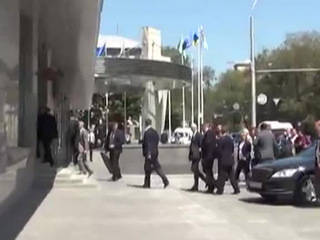 In Kharkov, the next "round table of national unity" of Ukraine was held. First convened the other day in Kiev. Representatives of the southeast, neither then nor now, did not call for negotiations.
On Saturday, 17 May, the meeting was attended by former presidents Kravchuk and Kuchma, the current Prime Minister Yatsenyuk and members of his cabinet. Met them in Kharkov is not the same as in Kiev: the politicians booed.
During the round table, Arseniy Yatsenyuk again spoke about the idea of ​​decentralizing power, broad powers for the regions and a special status for the Russian language. But he did not promise to end the military operation, reports the Russia 24 channel.