The truth is that we do not understand the Ukrainians. I mean not those Ukrainians who just live in Ukraine, more precisely on the territory that was once Ukraine, but the real Ukrainians are Svidomo Ukrainian patriots.
We do not understand them at all.
We do not speak with them in different languages ​​- Ukrainian and Russian are alike as two drops of water, we speak in different consciousnesses.
We are different to the ridiculous.
Remember the megaborred anecdote about two comrades who decided to shoot at Muscovites?
- And if they are us?
- And we for sho?
Is it funny?
Well, how can this person not understand, "for sho" they will shoot at him if he himself started shooting at another? How can an adult not understand what an adequate response is? What to shoot at people is bad? What Muscovites-people? Of course not. Therefore, it is ridiculous. Is it funny?
But this is about simple, about rural, unintelligent people.
We are intelligent people.
Let's about the intelligentsia.
Let us give the floor to the real Ukrainian creative intellectual Oleg Skrypka:
"If we were all Ukrainians together, knew the language, went to Ukrainian concerts, read Ukrainian books, it would have been impossible to create a fifth column and rely on Russian-speaking people to destroy the country and kill patriots on the streets. It was necessary to become cultural people who know their own language and not cover their own laziness and illiteracy - sanctimonious tolerance for languages. Two languages ​​are hypocrisy. This is a weakness - to cover up their ignorance, laziness and disrespect for
stories
and the culture of some kind of pseudo-democracy. As a result, a fifth column is being created, and this is a very good argument to conquer territories and kill people on the street. "
Funny Well, as an adult, without mental pathologies, a person does not see that respect for the Ukrainian language implies disrespect for non-Ukrainian-Russian? How can an adult not understand what an adequate response is? What not to respect people is bad? What are the inhabitants of the South-East - people and the same citizens, the same indigenous people of Ukraine?
Ridiculous?
Or is this completely inhuman laughter about the "burning Colorado" after the tragedy in Odessa? What do these people do not understand?
Who could leave hundreds of comments on the web with content:
"These are not people, everything that happens in the house of trade unions is a natural selection. so we are cleared of filth (hereinafter spelling and punctuation of the authors).
- SO IT IS NECESSARY TO ACCESS WITH ALL COLORADES
- Colorados have died? Then do not mind. It's a pity that 38 is only a little ... May 9 will sit like a mouse and quietly crawl.
- Good work, hit the boys Colorado. Glory to Ukraine!
"Total 38 kozlomordy parashnikov? Not enough, not enough ... That's 138 or 238 - that would be good."
In a word, it is time to talk about another aspect of the activity of the Ukrainian state - Ukrainization.
The essence of Ukrainization, the one that was held in the former Ukraine last 23 of the year, was perfectly formulated by the Ukrainian national-conscious politician Rostislav Novozhenets: "Everything Russian prevents us from living."
Read his interview on the web if you have an interest in horror movies about the walking dead.
I'm talking about the dead, not only from the desire to offend.
I again about the human usefulness.
I have already said and will never tire of repeating that a person needs culture to be fully functional. Only a culture created by centuries can create an environment for a person in which he can become full-fledged. Only culture can help a person to distinguish between Good and Evil. Only a nation can create a culture. And only a great nation can create a culture of world importance.
The trouble of the Ukrainians is that this great, complex, giving true human usefulness, high culture of world importance - we have with them.
This is the Great Russian Culture.
We have it in common because we created it together.
And consequently, from the point of view of one who wants to tear Ukrainians away from Russians forever, this culture is a hindrance. And that means it needs to be destroyed.
What happened during the 23 years.
The Ukrainian patriot in Gogol is not interested in "but the last scoundrel has a grain of Russian feeling", but Gogol's abusive letters about the Russian bureaucracy. The word "Russian" in general was extinct from the Ukrainian edition of "Taras Bulba". Gogol, devoid of Russianness, is the Polish pogroms and the choice of Andria. Nothing more is left.
Pushkin for the Ukrainianizer - a womanizer and moskalsky black. Lermontov - the author of the poem about "unwashed Russia". Which, by the way, is doubtful.
In a word, in the place where a person, a full-fledged person, a Russian should have a high culture, the product of Ukrainization has a charred black hole, sprinkled around the edges of "kohaytes chornobrivy, but not with moskalami" and "sprinkle the evil blood on the enemy".
Because nothing more was left to him.
Separate horror is that the victim cannot make his European high culture his own - because he did not grow up, the necessary conceptual apparatus is missing.
Get out automatically is a draw.
Let me stress: Ukraine is a project to dehumanize a huge community of people, for the production of Russian nonhumans under the guidance of Vyrus.
If someone has an inner intellectual squeal in horror "it cannot be!" - just look at Mrs. Fahrion.
Just like in the plots of Hollywood horror films about a zombie apocalypse. They wanted in the military secret laboratory to bring out the ideal non-killed soldier - they got a bloodthirsty walking dead man. So here: they wanted a perfect anti-Russian - they got a creature with a different morality.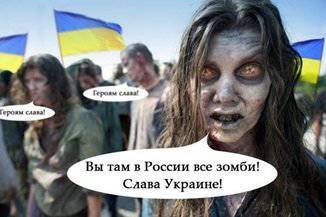 These people are spared from such chimeras as conscience and humanity. They simply have nowhere to get - because the source of these concepts is closed for them. Because he is in common with ours. And they do not want to have anything to do with us.
And when people of Donbass, Odessa, Crimea, and so on, flee in horror from these creatures, seek to isolate themselves from them by roadblocks and fences - this is not only because nonhumans devour many people and do not work. Not only because of the Russian language and Bandera with Shukhevych. Bandera and Shukhevych are only two horns that stick out on the head with the devil from under a European hat. The fact is that these peoples have a different, fundamentally opposite understanding of good and evil. And the Russians of the East of the former Ukraine want to shield their understanding of these things, their humanity, from nonhumans.
Russia's historical mission is not only to end the anti-human project, but also to return the culture and humanity to the victims of this experiment.