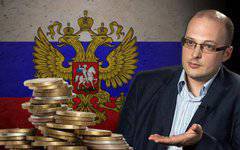 The government must use the accumulated reserves to overcome stagnation
The media publish a number of reports and statistics, from which experts make conclusions about the emerging stagnation in the Russian economy.
Is there a danger of "zero growth"? If so, what is the reason for this phenomenon and where to look for new incentives for economic development?
KM.RU is answered by these questions by Mikhail Vitalyevich Remizov, President of the Institute of National Strategy.
For medium and small businesses there has never been cheap loans.
- We have an economic stagnation. We are not the United States and not Western Europe, which are infrastructurally developed, so even if we had achieved growth in 1-2%, this would be bad, because we cannot afford such a low pace.
What are the reasons for this situation? A lot of them.
To begin with, lending opportunities for Russian businesses are limited. Previously, large domestic entrepreneurs borrowed relatively cheap money in the West. Now this source is weak, and there has never been a cheap loan for medium and small businesses. It is clear that this is one of the defects of the Russian economic model.
The second reason is a decrease in domestic consumption. So far, even in times of crisis, the consumer boom persisted, but recently banks and trading companies have assumed that it has ended.
The third reason is the very high production costs in both private and public large corporations. Associated with this is the problem of corruption and lack of incentives to reduce costs. The tough position of the Central Bank also contributes to the problem of stagnation. Not only are our banks under pressure from abroad, the Central Bank is also tightening regulation.
There are many other reasons, but they are secondary. Yes, officials state a sad picture, but they do not offer recipes for changing the situation.
For decision makers, free liquidity is a symbol of authority.
True, there is one exception: the idea is expressed to soften the budget rule. It is about putting less money in reserve, but they don't go for it either. Why? Yes, because since the end of 90-x economic policy is dictated by the fear of lack of funds to solve current problems. Accumulation syndrome is associated with the fact that for decision makers, free liquidity is a symbol of power, the ability to solve current problems.
As a result, we are like a family that saves for a rainy day, but lives with a leaky roof. The infrastructure is seriously under-invested, and I think that the printout of reserves will have to go. Yes, this is already happening: the monetization of the economy is growing. This is a move in the right direction, but there is still no cheap money.
In such circumstances, the chances for economic growth will be associated only with government spending. But this incentive is not enough: the state should not only spend money itself, and with a good efficiency and reducing internal costs, but also create conditions for business. This requires a departure from the previous credit policy, otherwise entrepreneurs will not be able to receive loans at an acceptable percentage.