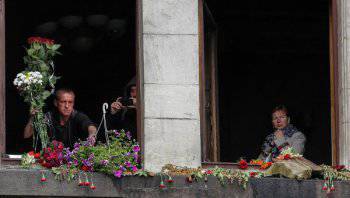 According to RIA
"News"
, with reference to the Security Service of Ukraine, on Thursday, six residents of the Odessa region were detained, who are suspected of participating in the notorious 2 events of May in Odessa.
"According to preliminary data, some of these individuals 2 May in Odessa took part in the riots, which led to numerous human casualties," - said representatives of the SBU.
On May 2, the arson of the Odessa Trade Union House was set on fire, during which dozens of Anti-Maidan activists were killed. According to the latest information, 48 people became victims of the incident, 214 was injured. In addition, 48 people were missing, although the police denied this. According to representatives of the SBU, the building used a hazardous chemical that was sent for international examination.
On Thursday, it was reported that as part of the investigation of the Odessa events 16 people were arrested, 33 was still under house arrest.