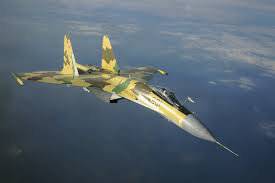 According to the
"Military Industrial Courier"
, with reference to the leading researcher of the Institute of the USA and Canada RAS, the ex-Chief of the Main Staff of the Strategic Missile Forces, Colonel-General Viktor Esin, in case of successful negotiations between Russia and China about the supply of Chinese-made Su-35 multi-role fighters to create a carrier tactical nuclear
weapons
.
He noted that Beijing had announced its readiness to purchase a small batch of the "most advanced domestic multi-purpose fighter Su-35С".
"If this transaction takes place, it cannot be ruled out that in the future, on the basis of this aircraft, the Chinese will create a new
aviation
carrier of tactical nuclear weapons, "Yesin added.
The first data on the purchase of a party of fighters by China appeared at the end of 2012 of the year.