Babai against the world conspiracy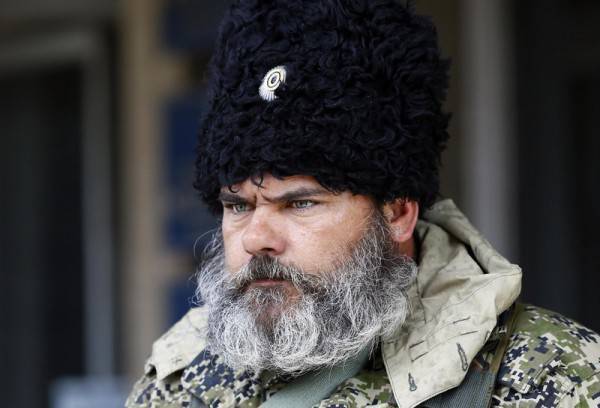 Babai, an Orthodox Cossack, was fallen in love with Russian journalists because of his unusual appearance. On his belt he has a pistol holster and a knife without a case. On the shoulder - AK with long horn. Ukrainians accuse Babai of taking hostages, there is information that he fled from Russia from the criminal investigation department. In an interview with Gazeta.Ru, he told about the "Wolf Hundred," posters with his own image, conviction, participation in battles, the Ukrainian nation.

In Kramatorsk, along with Slavyansk, the main militia forces are stationed and one of the most recognizable militias is Commandant Babai.
Babai is in charge here, everyone knows him: officials and local people greet him, the Cossack calmly nods in response. Suitable partner: caught the car, the documents are not straightened. Babai quietly gives the order, he has an old mobile phone in his hand, from time to time they call him and he interrupts the interview.
Babay knows about the posters with his own image, on the territory of Ukraine he wants to revive the Zaporizhzhya Sich, to build a Cossack with the Orthodox Tsar. He is offended when I compare him with the Ukrainian nationalists, and calls himself an Orthodox warrior. Babai says Ukraine is an artificial state, and there are no Ukrainians.
—
You identify yourself as an Orthodox warrior.
- Yes. The Cossack is an Orthodox warrior.
—
True, you are from Russia, what is your real name?
- Mozhaev Alexander Ivanovich, Belorechensk city, Krasnodar region. Ekaterinodar region (The name of the region during the Russian Empire. - "Gazeta.Ru").
—
In what the latest fights, if not a secret, you participated? Now they are reporting in Kramatorsk about six people killed by the Ukrainian army and the National Guard ...
- I dont know. I did not participate anywhere.
—
Do you participate anywhere?
- Last time no.
—
You are more likely to command, yes?
"Yes, I am now commanding the commandant platoon guarding the roadblocks."
—
What are you waiting for, as events will develop further? Russia will help or Ukraine will start a full-scale war, go with tanks on you?
- No, the Ukrainians, as such, will not go. Mercenaries will go. Those people who are hired for money. There are gangsters, mercenaries from various other regions, the whole world. Even those heads that suck, as they are called, well, bounty hunters, are American.
—
The mercenaries "Graystone" and "Blackwater" (posters with them hang throughout the rebellious region, as Ukrainians claim that among the militia there are many GRU officers, and the militia talk about American mercenaries - "Gazeta.Ru")? Have you heard the American, English speech among your opponents?
- No, I heard that their 30 man is gone ...
Babai has a specific sense of humor: one journalist, he said that he accidentally found his AK on the ground, there is also a video in the network where he dances with a knife and a machine gun at a Kramatorsk concert.
—
Not? ... And how well are you generally armed? Can you fight if the Ukrainians really launch a full-scale war? How ready and how much does Russia help you?
- You know, actually Russia does not officially help. All people help us in general. People from all regions of the country are helping. Not this country, which they call Ukraine, the outskirts of Russia, but Russia itself.
-
But somehow, in general, all these 23 people lived in Ukraine. Do not you mind that it is falling apart now in parts? First Crimea, now Novorossia.
- Do you know why I do not mind? Because the plan of Dulles, as they say, is in action. Now the brotherly people are being pitted against each other, you see. We must now kill the same Orthodox Christians as we do. We do not want to do this, but they are forced there. We took one person from the "Right Sector". He was in one of hundreds of these "right sectors". He was called by the centurion and said that either you are coming with us, or you are not there, and your family, all your relatives and friends. What could he do about it. Naturally, he went at his own peril and risk ...
—
Do you think that the Ukrainian army is now fighting at gunpoint their comrades, right?
- Yes. Ordinary soldiers who serve in military service, they do not want to fight with their own people, which they sworn to defend. But the National Guard under-she did not give any oath to defend their Ukrainian people. They just go for the money to kill.
—
Do you think Russia will send troops?
- I would have sent troops in the place of Russia.
—
Will 25 May Presidential Election?
- I think no. If they do, they will not be legitimate, as there is a living president who left Ukraine. I think all these elections that will take place will be illegitimate. No one recognizes them. Suppose Russia does not recognize them. And the opinion of other countries, Western, we are not interested. West let them pick their dirty things. And somehow we ourselves will deal with their Orthodox people.
—
How do you see the future of "Donetsk" and "Lugansk People's Republics"?
- Yes, what? Flourishing.
—
As part of Russia or autonomous?
- I think that is part of Russia. Because autonomy is again "divide and conquer". That is, there will be a separate state, everything will be separate. And in the case of some otherworldly forces will again turn to someone for help.
—
And what kind of power will be here, what will be the party? How do you see the structure at all?
- I think there will be no parties at all. Because, I think so, the people will simply rule here. There will be one owner who will dispose of everything.
—
That is a monarchy?
- I think the way it was with the king.
—
That is, it is rather a kind of revival of the Russian Empire, yes?
- Yes. Here I would like to revive the Cossacks. That there were no state authorities. That there was an autocracy, ataman rule.
—
Here, the Ukrainian government believes that there are only terrorists and separatists, and at least half of them are either Russians or Grushniki. How true is this?
- As they say, fear has big eyes. They think that we are Grushniki there, special forces. Yes, we are a special squad, a Cossack special squad, the "Wolf Hundred." Now the Cossacks from the "wolf hundreds" will come here and, I think so, we will quickly deal with this all.
—
Ukrainians say that there are many Chechens here, that the Kadyrovtsy are fighting with you, on your side.
- I do not know. Here we have at the moment, in Kramatorsk and Slavyansk, there is not a single Chechen platoon. Maybe I also heard such rumors that they had come, and many asked me a question, do Chechens need here? I say: no, the Chechens are not needed here, since we, the Orthodox people, will deal with our Orthodox people. No one owes us ...
-
So you, as Orthodox, would not want Muslims to fight on your side?
- Нет.
—
And how much do you like, if not secret, the device of the Crimea? Because there the Crimean Tatars are now a separate diaspora, and the Russian government gives them a special status.
- Yes, let him. What they are given does not mean that they will use it. Because all the same, as they say, the last word will be ours. No matter how much they themselves wondered about the fact that they were the masters of this land. No, they just live on it. Live peacefully - well, let them live. Not peacefully - it means they will not live peacefully.
—
How long will the war last?
- I heard such rumors that somewhere three years. But this is if you go to America. To America and NATO did not climb here, with its European Union and everything else, with this plan of Dulles. So, in fact, some say, everything will end at the end of May. Others: in August. I would finish it tomorrow. There would only be Cossacks on our side from there from Kiev, from Zaporizhia. Since they have poor awareness, they do not know what we are going and what we want. They think we are going against them. No, Cossack Cossack brother, until he proved the opposite. Therefore, we still go to them to go with them. For what I told you. For the Cossacks.
—
I see that the local greet you. How much do the local people support you and how much is the administration now on your side?
- I look at everything that happens, and, probably, the residents support us with both hands. Only units at polling stations showed ... In one electoral 27, a person was against, in the other - 30. Well, a little. Even one percent will not reach the total population of the "Donetsk Republic".
—
But if these dissatisfied people are there, they are not intimidated, do they generally live here normally?
- They are not intimidated, of course, they live normally. They just when they go out and begin to say out loud that here I am this and that, they say to him: calm down, this is all a fraud. For now, all this will be explained, while their eyes are opened to him, for these 23 years, which wears into the head that he is a Ukrainian by nationality. There are no even such people at all - the Ukrainians. There are Ukrainians, there are Cossacks, there are Slavs, there are Orthodox. All of one, as they say, meat made, and believe in one faith.
—
But if Novorossia becomes part of Russia, it turns out, after all, the president will be united - Putin, do you agree with that? He's the president after all, not the king.
- You know, the way he rules, it looks like a kingdom.
—
So you could say that Putin is a king?
- I could say that.
—
That is, democracy is ineffective?
- Generally ineffective. They left everything the same, the same laws passed by the Communists, only called them by another name. And why? Because they consider these laws to be effective. No, all these laws, starting with the revolution, when they began to be printed, became payroll, you know?
He (the official. - "Gazeta.Ru") looks, opens the law. So, the article is such and such - the price is such and such, the article is such and such - the price is such and such. That's how they make money now. In addition to being paid by the state. People have no faith in the authorities. Plus, they also invent these laws. And these laws are stricter. People make slaves, raising prices for everything.
A person can not think calmly, to express their opinions. Because he is thinking about how he can find money tomorrow, to feed his family, to dress, to pay ... We did not live like this before, at least our ancestors. And I do not want to live like that. So that some kind of policeman, some kind of prosecutor, some kind of judge would decide my fate. Who are they to decide my fate. No one.
—
I can not ask why Donbass exploded right now? 23 of the year has passed since the independence of Ukraine.
"Because they see the junta coming here." Not only the junta, the European Union is coming here.
—
Ukrainian authorities have reported that you have a turbulent Russian past, including criminal cases.
.
- Well, in the family, as they say, not without a freak.
—
Youth error?
- They imprisoned me according to the laws that were passed.
Babay used to say that hooligans were attacked by Koreans under the window, beaten and wrote a statement in collusion with the bribed policeman. Suddenly, he sharply translates the topic and I decide not to push.
- Yes, by the way, I will tell you now about one law. This is the marijuana law. So, in the 1977 year, September 21, on my birthday, such a law was published: cannabis is a drug, marijuana. By adopting this law, they improved the merchantability of vodka. Well, naturally, people began to decompose, because he began to drink vodka. And I did not drink vodka, I used hemp.
—
And now stopped?
- No, why?
—
And many, in general, use?
- I'll tell you, almost everything. Those who do not drink. And those who drink, they continue to drink.
—
What would you like to pass on to the Ukrainian army if this interview is published?
- Ukrainian army?
—
And the National Guard.
- Oh-th-th. And these pravosekam?
—
If they read the interview.
- Yes, I will tell you now, one second. Yeah. Dear National Guard, pravoseki, junta, and how many of you there are still there, all sorts of mercenaries. I have a request to you: think again and go to your home. Fold machines at home, pick up choppers and go to the garden to pick. For now you think you are making money. Only I do not understand, going to death, how you will spend them. It is very difficult. And who will spend them? I think that even in the course of your family will not receive them. This time.
Because you came here and started to kill people, civilians, I think so, and your families will also suffer after that. You think about what you are doing. I do not want to say that I will pursue your families. I will not chase them, but the common people. Therefore, think again, fold
weapon
, and no longer meddle dirty in this policy. Something like this.
We are finishing the interview, Babai, along with his partner in the "wolf hundred" Dingo, goes to the city executive committee to get the papakhs, to be photographed against the background of the barricades. Having seen Babai posing, a dozen of Kramatorsk run up to us, they also want to be photographed. Next to the bored look, there are two moms with strollers, of which the kids are looking at the barricades with anti-fascist posters. From the loudspeakers in front of the executive committee, the song of the "Counterrevolution" about the Russian nation and the king comes.
How the tornado brought the twentieth century
Flows us bloody rivers.
Amid revolutions and wars
The best sons burned
Tortured country.