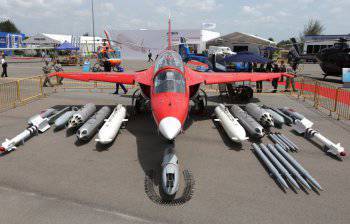 According to the
ITAR-TASS
, with reference to the Director of the Federal Service for Military-Technical Cooperation Alexander Fomin, Russia is actively promoting the Yak-130 combat training aircraft to the markets of Vietnam, Mongolia and Latin America.
"Despite the fact that foreign partners confirm interest in the purchase of this aircraft, specific contractual agreements have not yet been reached," said Fomin.
He also recalled that by the end of 2016, the 16 of the Yak-130 will go to Bangladesh as part of the Russian state loan.
In addition, the Director of the Federal Service noted that the Russian side is going to take part in tenders for deliveries of air defense systems, multifunctional fighters and helicopters, as well as submarines to the countries of the Asia-Pacific region.