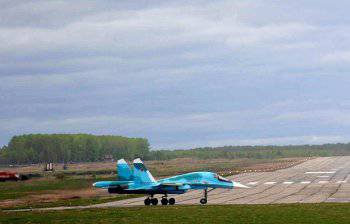 As noted by
ITAR-TASS
On Wednesday, Sergey Smirnov, Director of the Novosibirsk Aviation Plant named after V. Chkalov, said that in 2014, the company would launch 18 Su-34 front-line bombers as part of the state defense order.
"Last year we made 14 airplanes (Su-34). This year we are doing not only a plan (16 aircraft - TASS approx.), But we will also launch two cars over the plan, "he said.
The first three aircraft will go to the customer at the end of May. At the moment, a series of test flights is being conducted at an aviation enterprise.
The plant signed a contract for the supply of 32 Su-34 with the Russian Ministry of Defense in 2008, and in 2012, another contract was signed, providing for the production of 92 bombers before the end of 2020.
The Su-34 fighter bomber was developed by the Sukhoi Design Bureau. Its main purpose is to destroy air, ground and surface targets in any weather conditions using rockets and
aviation
bombs. In total, the Russian Air Force will be armed with 150-200 such bombers, which will replace the Su-24 currently in use.