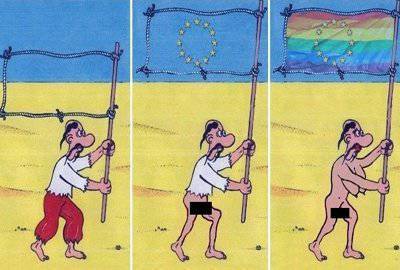 Listen, and what are you indignant about this one, how is it? Whether Conchita bearded, or a beard goner? Yes, that's what the doctor ordered! It's one thing when Putin is boring to explain to anyone who hasn't yet understood - with whom we are dealing there. From him and can dismiss: slander. And here you look at this, and you understand: no, it is an understatement.
Well, how else could the difference in the existing alternatives be explained more convincingly to the voting Ukrainian East? But our European friends are right there: European values? Here you are, in all its glory.
Naturally, after this the inevitable will be: "aaaaa! Chur me! Where is my newsletter ?! ". Again, I begin to suspect that all this is the machinations of Putin and the KGB. And as always it is clumsy: they dressed a personnel agent in a woman, and forgot to shave. And the name was thought up stupidly in the calculation of the primitive tastes of the Russian-speaking audience: well, exactly the Chekists did their best, with their vulgar humor about all sorts of "konchity-huanits". Although so fit.
It seems that we were lucky all the way to idiots and scoundrels from the other side. After all, with the same Yanukovych, we would have long sponsored this bodyguard with a smooth European integration nezalezhnoy. And then, as a trio of banderers got out of the box, all ambiguities and fraternal obligations were safely removed. Now only by itself and only by Euro account.
But even in this case, the South-East could continue to sleep, humbly waiting for their fate. So no: first we ran into the tongue. Then Gilyaku promised to everyone who does not like Bandera. Did not believe? So they clearly, the Odessa Khatyn explained: with us - it is there. In full and final Europe.
Again, not clear? Then we will clarify: with us it is on the other side of the Nuremberg Tribunal, from judges to defendants. From Winners to collaborators and punishers. We now have not Victory, but grief - that not our hero won. But now they take their little revenge. With us 6-th fleet of the USA and Conchita Wurst, to the Hero - glory, who is not a woman with a beard - that is Moskal!
As one big dislike of benderovitsiv used to say, "the right way, go, comrades!".
Only a very wet under the "rains" consciousness can suggest that "in Russia we have to see all that we see now in Ukraine."
Guys, yes, your Euro-Atlantic idols are tightly closing the topic of any civil war and other Maidan in Russia, as no one of Tyrant and all his Kiselevs-24 combined could do. Civil war - with whom? WITH THESE? Who grieve on Victory Day and triumph on the day of grief for burnt alive?
Yes, a lot of honor!
There is no civil war prosecutor with a criminal, a psychiatrist with a patient, an army with deserters and traitors. I have no idea how Makarevich and Shevchuk will be laundered, who have been praised by Yarosh himself! Well this is a stigma for life.
Thank you, Yarosh, thank you, Conchita, thank you, "Bandera" and "pravoseki", thank you, Merkel, Obama, Nuland and other psaki, for a series of lectures for the Russian intelligentsia on the topic: "what is good and what is bad." Twelve points goes to ... all of you! Kiselev-Kremlin elbows and knees bite with annoyance that he is up to your master class - as before victory at Eurovision. With a certain melancholy, I begin to wait for the moment when Tyrant says - "Thank you all, everyone is free, extras too, and now let's do the routine". As the idol of Pan Yarosh sang, "and the dolls will be removed from the thread with a long one, and, falling asleep with mothballs, in the form of rags will be folded in chests".
And Russia will go further.
I hope, together with the Russian cars unhooked from the burning Ukrainian train. Which in 2014, have ceased to be "sleeping".