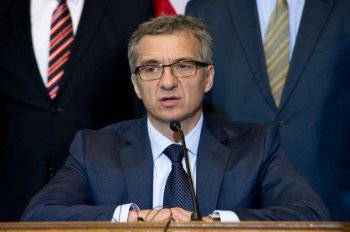 According to the
"RT in Russian"
, a meeting of the European Bank for Reconstruction and Development was held on Thursday, at which the Minister of Finance of Ukraine, Alexander Shlapak, spoke, saying that Ukraine is ready to return to the idea of ​​borrowing billions of dollars from 15 from the Russian Federation.
"When it came to our gas conflict, we suggested, let's go back to the idea of ​​15 billions, let's go back to normal cooperation. Pay us a tranche of 2 billion, as promised in January, we will immediately pay this money for gas debt. But, unfortunately, did not receive such an agreement, "said the Minister.
It is worth recalling that December 17 of 2013 of the year Russian President Vladimir Putin announced Russia's intention to place in Ukrainian securities 15 billions from the National Welfare Fund.