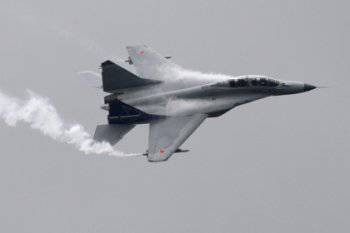 According to the
"Lenta.ru"
, 22-25 in May in Kazakhstan will host the international exhibition of weapons and military equipment KADEX-2014 with the participation of the Russian aircraft manufacturing corporation "MiG", which will present a prototype of the double version of the promising light fighter MiG-35.
Piloting of the multifunctional fighter will be carried out by test navigator Nikolai Murmilov and test pilot Stanislav Gorbunov.
In addition, the MiG will show in Kazakhstan the upgraded MiG-29М / М2 and deck fighters MiG-29К / KUB, as well as a complex of three-dimensional visualization as part of the combat simulator STBP-29.
Kazakhstan's President Nursultan Nazarbayev announced in May 2012 of the year that Astana is going to purchase a batch of MiG-35 fighter jets.
It is also worth noting that the delivery of these fighters is provided for in the state armaments program of Russia up to 2020. In mid-April of this year, the Russian Defense Ministry announced that the contract for the supply of 24 MiG-35 plan to sign after the 2016 year. In just a few years, RSK MiG has to assemble about a hundred fighters.