Pavel Gubarev: go to martial law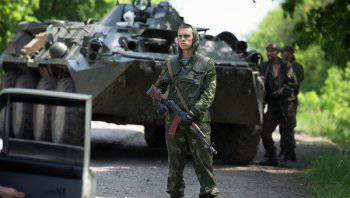 According to RIA
"News"
, on Thursday, the people's governor of the Donetsk people's republic, Pavel Gubarev, warned Ukrainian security officials that if the troops and equipment remained in the territory of the DPR, the militia would begin to destroy them. He also reported on the transition to martial law.
"It remains 1 an hour before the ultimatum expires to the Ukrainian invaders, so that they remove the illegal checkpoints and withdraw the troops and equipment from the cities of Donbass. Otherwise - the total destruction of all: the techniques and manpower of the fascists! - he wrote on Facebook. "Residents of Donbass, if someone has not yet understood, go to martial law."
Meanwhile, notes RIA
"News"
, artillery shelling of militia positions under Slavyansk continues. According to the representative of the national militia, battles are taking place on the outskirts of the city near the villages of Semenovka, Andreevka, Karachun mountains and the city of Krasny Liman. "Shelling does not stop with 14: 00 (13: 00 MSK) on Thursday (May 15). The fire is fought with mortars, large-caliber machine guns. There is also evidence that they pull up heavy military equipment, "he added.
The forces of the Ukrainian National Guard block the entrances to Slavyansk from Kramatorsk, subjecting all passing through to personal inspection.
As the
versii.com
On May 14, the Ukrainian military twice opened fire on civilians near the villages of Aleksandrovka and Varvarovka near Kramatorsk.
First, two cars were fired, in which there were five men returning from fishing. Two of them - Vitaly Shkolyar and Alexander Pogoretsky - died, two more were injured.
A little later, another car was fired on the road between the settlements of Novaya Varvarovka and Staraya Varvarovka. The 50-year-old woman in it died.
RIA
"News"
reports that a car with journalists from the TV channel Russia Today and St. Petersburg's Fifth Channel was also fired at Kramatorsk.
In Lugansk, unidentified armed people broke into the district council and stole the lists of voters.
"Eight men in camouflage, armed with machine guns, broke into the Zhovtnevyi district executive committee of Lugansk, took the keys from the RSA staff, entered the office and stole the electoral registers, as well as the seal. This is preliminary information, it is specified. It is possible that something else has been stolen, "said the representative of the local police.